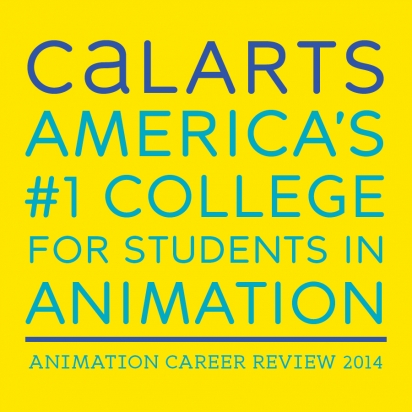 On April 14, Animation Career Review released its 2014 lists of the Top 100 Animation School Programs in the U.S. and Top 25 Animation Schools on the West Coast. CalArts ranked #1 on both lists.
Established in 1961, CalArts offers a state-of-the art animation laboratory (one of the largest in the country), animation portfolio development workshops, and renowned visiting artists from around the world. The school is also the former home of Tim Burton and Chris Buck—2014 Oscar Winner for Best Animated Feature Frozen to its credit as well as Chris Sanders—2014 Oscar Nominee for Best Animated Feature The Croods. In addition, because CalArts is located in the #1 state for film and animation, students have access to more lucrative employment opportunities than any other place in the world.
The criteria used to rank the hundreds of considered U.S. schools consists of academic reputation, admission selectivity, depth and breadth of the program and faculty, value as it relates to tuition and indebtedness and geographic location.
The online resource's goal is to "give students access to ample information so they can make an informed decision about the school they choose to attend and the program they pursue."
Related: CalArts Animators Featured in the 'Hollywood Issue' of Vanity Fair.