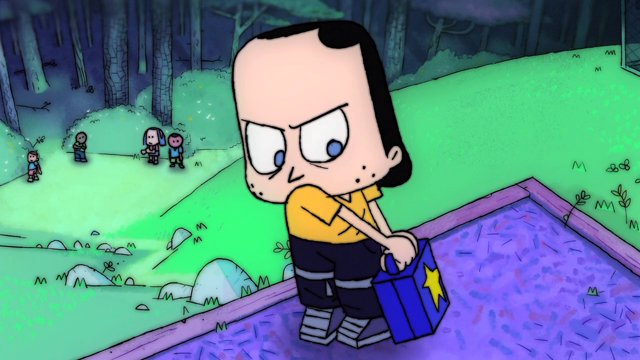 The next generation of animators from CalArts' Character Animation Program screened their films at the Academy of Television Arts and Sciences in North Hollywood on Thursday night (May 8) with a little encouragement from two special guests: alumni Chris Buck (Film/Video 78) and Mike Giaimo (Film/Video 78).
Buck—who took home an Academy Award in March for directing the Best Animated Feature, Frozen (with Jennifer Lee)—advised the students in the audience to be kind to their peers because they'd never know who they might work with—or for—later down the line. "Chris and I first met in 1976," said Giaimo, the Annie Award-winning art director on Frozen. "We met in line on the first day of registration."
Giaimo recalled sitting in a Frozen meeting with Buck and fellow CalArts alumnus John Lasseter (Film/Video BFA 79), one of the film's executive producers and chief creative officer of Walt Disney and Pixar Animation Studios, and telling them how much the meeting reminded him of their times at CalArts, though he said Lasseter reminded him, "The budgets are a little bigger."
In total, a selection of 24 student films were screened, including this year's 2014 Walter and Gracie Lantz Animation Prize Winner (aka the "Woody" Award), selected by both full-time and adjunct faculty members. There's a Man in the Woods by Jacob Steilein (Film/Video BFA 14), which traces a snowballing lie, has already garnered 224,000 views on Vimeo and was selected as a Vimeo staff pick since its posting on May 2.
The 2014 Peers' Pick Award, selected by Character Animation students, was presented to Ricky Cometa (Film/Video BFA 13) for his film Corridors, about the real reasons that a boy won't do his homework.
The Producers' Show once again showed a wide selection of student films, with monsters, zombies and ducks or other animals, seemingly ruling the roost. On the evening's program:
Once Upon A… by Amber Ren (Film/Video BFA 15)
High Tea by Tammy Chang (Film/Video BFA 14)
La Gemela by Megan Ruiz (Film/Video BFA 15)
Hotdog by Jason Reicher (Film/Video BFA 14)
Acorn by Madeline Sharafian (Film/Video BFA 15)
Nocturne by Kari Casady (Film/Video BFA 14)
boy by Simon Leclerc (Film/Video BFA 17)
Feast in a Fallen City by Aron Bothman (Film/Video BFA 15)
Johnny & Berry by Sang Lee (Film/Video BFA 16)
Man Scouts by JK Ramsey (Film/Video BFA 14)
Good Morning by Anna O'Brian (Film/Video BFA 17)
Cocoon by Xiya Lan (Film/Video BFA 17)
Deep Squeeze by Ingo Raschka (Film/Video BFA 17)
The Pitch by Charles Hodgkins (Film/Video BFA 15)
Steadfast Stanley by John Kim (Film/Video BFA 15)
Abduckted! by Seth Boyden (Film/Video BFA 15)
Tiny Nomad by Toniko Pantoja (Film/Video BFA 14)
Sleep by Tony Unser (Film/Video BFA 16)
Derailed by Yon Hui Lee (Film/Video BFA 15)
Hoof It by Seth Boyden (Film/Video BFA 15)
The Best Toy by Gabriel Lin (Film/Video BFA 15)
Nada Doctor by Matthew Yang (Film/Video BFA 14)
These films, as well as others from this year's Character Animation Program students, have been uploaded onto Vimeo. Since releasing the films last week, the videos have collectively garnered more than 1 million views in eight days.
The entire evening was dedicated to the memory of Frank Terry, the former head of the Character Animation Program from 1996-2007, who passed away earlier this year.
Corridors from Ricky Cometa on Vimeo.