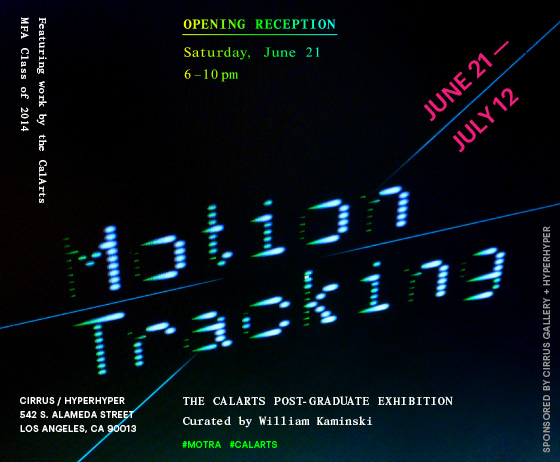 From June 21 through July 12, the CalArts School of Art MFA Class of 2014 presents its graduate exhibition Motion Tracking held jointly at Cirrus Gallery and HYPER HYPER in Los Angeles' Downtown Arts District.
The show, curated by independent curator William Kaminski, features all new work by graduates from the Art, Photography & Media, Art & Technology and Graphic Design programs.
From a press release:
Motion Tracking seeks to identify and understand a pattern of subjective invisibility within a selection of artistic productions and strategies. The exhibition maps the layers of physical and technological distance between the artist in control, his or her image, the site of its projection, and that of its reception.
Graduates whose works are included in the exhibition are: Patrick Michael Ballard, Adriana Baltazar, Bridget Batch, Susanne Melanie Berry, The Best Friends Learning Gang (Danielle Bustillo with Joey Canizzarro [Critical Studies MFA 14]), K. Bradford, Gustavo Gomez Brechtel, Eric Andrew Carter, Kat Catmur, Ruby Chen, SoYun Cho, Minkyung Choi, Barnett Cohen, Chris Dyson, Colomba Cruz Elton, Danny Escalante, Ibai Fernandez-Valdes, Luis Flores, Elijah Ford, Meghan Gordon, Earl Gravy (Emma Kemp [Critical Studies MFA 14] and Daniel Wroe), Yaron Guerrero, Ryan Hines, Rebecca Hoffman, Miranda Hoffs, Nicholas Johnston, Karan Kapoor, Ali Kheradyar, Eve-Lauryn LaFountain, Jessica Li, Nicholas Jianhong Liang, Becca Lieb, Andres Payan, Ho Yan Pun Nicole, Mike Richards, Leander Schwazer, Weng-San Sit, Meital Yaniv and Yi Zhang (all Art MFA 14).
A catalogue designed by Graphic Design graduates is also available for purchase at the exhibit. More information can be found through Motion Tracking's official Facebook event. Guests may also follow the conversation on Twitter using the hashtag #MoTra.