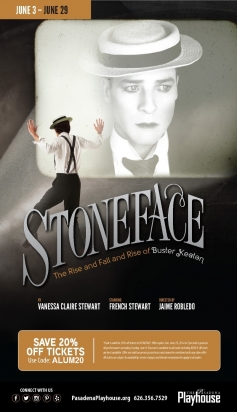 The Pasadena Playhouse presents Vanessa Claire Stewart's Stoneface: The Rise and Fall and Rise of Buster Keaton, running until June 29.
The play, which garnered the L.A. Weekly Award for Best Production of the Year on its first run at Los Angeles' Sacred Fools Theater Company, is based on the life of silent film star Buster Keaton, nicknamed "The Great Stoneface" because of his consistently deadpan expression while performing physical comedy.
More from a press release:
Chronicled through the lens of his own silent films, Stoneface recreates some of Buster Keaton's most memorable gags live on stage, capturing the legend of a bygone era and telling the tale of the redemption of one of Hollywood's greatest performers.
CalArts alumna Cricket S. Myers (Theater MFA 03) is the sound designer for this production, which stars French Stewart and also features Tony Award winner Daisy Eagan.
CalArts affiliates get 20% off tickets with the code ALUM20.