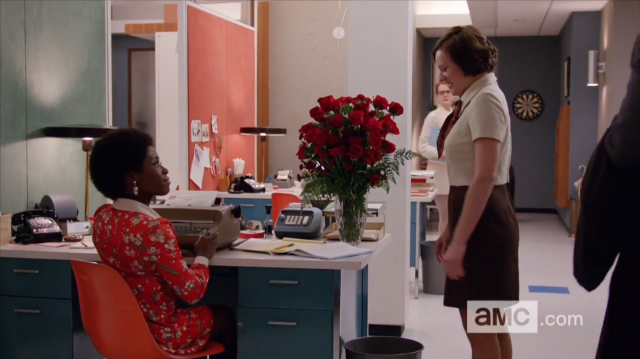 In April, CalArts alumna Sola Bamis (Theater MFA 11) made her debut on Mad Men's seventh season as Shirley, a secretary at the Sterling, Cooper & Partners advertising firm, reporting to copy chief Peggy Olson (Elizabeth Moss).
Although her character had limited screen time, Shirley is involved in a delicate, yet definite shift of perspective for the show by helping to incorporate issues of midcentury American race relations in current storylines.
NPR's Linda Holmes dedicated one of her weekly Mad Men commentaries to a pivotal scene between Shirley and Dawn, the series' only two black characters.
Sunday night, however, both Dawn and Shirley—a recently added black secretary who, unlike Dawn, rocks very short dresses and natural hair—got their very own conversation, just the two of them, that subtly realigned the show's consideration of race from one that was primarily about the experiences of white people to one that was at least curious about, if not yet diving deeply into, the experiences of black people, and specifically black women….
While there's a long way to go yet in fleshing out these characters and these stories, Dawn's promotion and the complexities of Joan and Peggy's [agency executives] interactions with Dawn and Shirley were a big step forward for Mad Men in addressing issues of race, akin to the way the show has examined gender equity issues from the start.
During her time at CalArts, Bamis performed in productions of In the Blood (2010), Measure for Measure (2010) and The Forgotten World (2009).
Above is an excerpt featuring Shirley and Peggy from the much talked about episode, "A Day's Work."
Mad Men returns for the latter half of its final season in 2015.