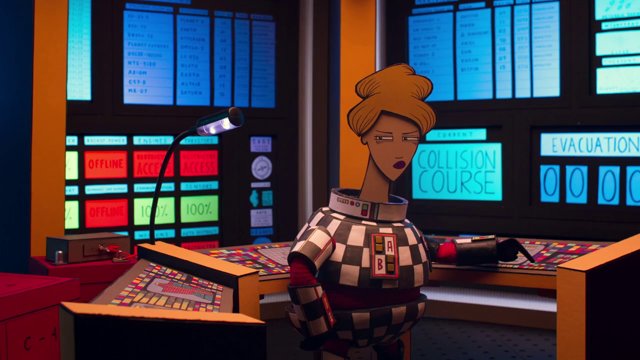 Retrograde, a stop-motion film by alum George Metaxas (Film/Video MFA 12), is this week's selection on shortoftheweek.com—a site dedicated to "serving up epic bite-sized films" from around the world.
Completed in 2013, the 11-minute sci-fi opus tells the story of the last two inhabitants aboard a space station—a human called Jemima and an alien tourist named London—who have to decide whether to save themselves or the nearby outpost of Uranus City from an asteroid strike.
Metexas shot intricately fabricated stop-mo puppets with hand-drawn faces on a cardboard set complete with handwritten computer displays.
Short of the Week editor Rob Munday explains why Metaxas' animation style is unique:  
Beginning life as a short comic in 2010, George Metaxas' stunning stop-motion short Retrograde combines an intricate production style with a charming narrative overflowing with dark comedy and moral dilemmas. Building an immersive universe from playfully created cardboard sets and some imaginative lighting methods, Metaxas' film takes the DIY approach to new levels with its inventive visual style.

…

With a colourful style inspired as much by retro science fiction films, as it is art deco and modernist design, animator Metaxas has created a style very different to the minimalist, clinical look we see in the majority of modern films in this genre.
Metaxas' first-year CalArts short, Hole In The World, was featured in the 2012 Experimental Animation Showcase at REDCAT. Watch it below: