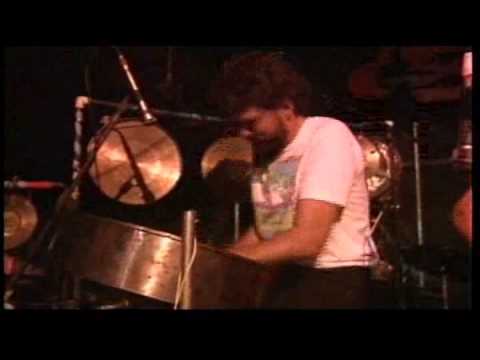 The final Wild Beast Concert Series performance of the Fall Semester is on Oct. 18 at 6 pm in the S. Mark Taper Foundation Courtyard. Closing out CalArts Weekend 2014, the outdoor concert pays tribute to the legacy of the late percussion faculty John Bergamo (1940-2013) with a program of his works performed by ensembles he founded.
The one-of-a-kind hand-drummer, composer, global music expert and educator who passed away on Oct. 19 of last year, was one of the most influential creative figures in the international music community. He founded the Percussion and World Percussion Programs at CalArts in 1970 and ran the programs for 35 years. During his long career, Bergamo published more than 25 percussion compositions, performed on numerous Hollywood film soundtracks and worked with music legends such as John Cage, Ringo Starr and Frank Zappa.
Taking the stage on Oct. 18 in his honor are members of Bergamo's original Repercussion Unit, the Hands On'Semble with faculty members Pandit Swapan Chaudhuri and Houman Pourmehdi, and the CalArts Percussion Ensemble.
Percussionist Marla Leigh (Music BFA 97, MFA 00) remembered Bergamo in an obituary from Oct. 2013 on World Music Central:
Bergamo was a pioneer, a genius, instrumental in developing innovative frame drumming and percussion techniques. … I have so much respect, honor and gratitude for what he taught me while I was studying with him for my BFA and MFA. John was my main mentor and anchor of support throughout my college years. He was filled with such a zest for life, and one of the most compassionate, giving, extremely talented souls I have yet to meet. He could drum on anything, and make it sound like beautiful music.
The video above features the Repercussion Unit performing The Toy Box at a John Bergamo tribute from March 24, 2013. Below is the Hands On'Semble performing a set on June 1 of this year:
Event Details
Wild Beast Concert Series: A Tribute to John Bergamo
Oct. 18, 6-9 pm
The Wild Beast, CalArts
Free, Reserve Tickets