On Wednesday (Oct. 22), Lit Crawl: LA NoHo returns for a second year of readings, performances and a celebration of literature. The event, an offshoot of San Francisco's popular annual literary festival Litquake, takes place in several venues in the North Hollywood Arts District. 
This year's event is composed of three rounds of readings starting at 7 pm, followed by an after party at The Federal Bar on Lankershim Boulevard. Among the many poets, playwrights, screenwriters and fiction writers giving readings at the event are several CalArtians, plus an event hosted by the literary magazine Black Clock.
CalArts alumnus and faculty Douglas Kearney (Critical Studies MFA 04) reads with fellow writers Antonia Crane, Corrie Greathouse, Wendy C. Ortiz, Jim Ruland, Kyle Sawyer and Jerry Stahl at The NoHo Arts Center for Round 2 at 8 pm. The event, titled A Scream Without a Mouth: Stories of Reaching Out and presented by journals The Rumpus and The Rattling Wall, features writers who "dig into the abyss for [their] darkest tales in order to hold them up to the light and show you their inherent, convulsive beauty."
For Round 3 of Lit Crawl (9-9:45 pm), The L.A. Word, an ad hoc group of queer writers in Los Angeles, presents Exploded Guns at the lobby of Laemmle NoHo 7. CalArts alumna Cheryl Klein (Critical Studies MFA 02), along with Pat Alderete, Olga García Echeverría, Bronwyn Mauldin and Wendy Oleson, reads works that explore gun control issues.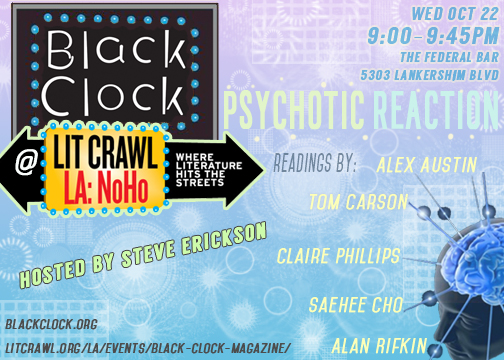 Simultaneously, Black Clock, the literary magazine published by CalArts through the MFA Creative Writing Program and the Program in Graphic Design, hosts Psychotic Reaction, a reading at The Federal Bar. Black Clock authors Alex Austin, CalArts faculty Claire Phillips, Tom Carson, CalArts alumna Saehee Cho (Critical Studies MFA 10) and Alan Rifkin read from works that explore madness through fiction, creative non-fiction and poetry.
All events in Lit Crawl: LA NoHo are free, and all venues are within walking distance of the Metro Orange and Red Lines. An RSVP is required for the 10 pm after party at The Federal Bar. See the complete schedule.