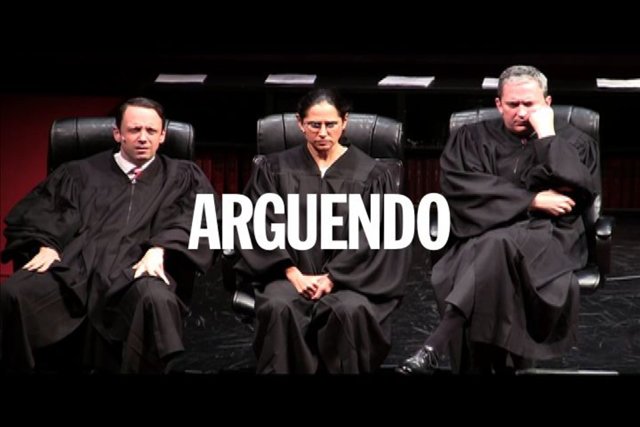 In 2012, the New York-based theater ensemble Elevator Repair Service (ERS) staged Gatz, its nearly 8-hour retelling of  F. Scott Fitzgerald's masterwork The Great Gatsby, at REDCAT. The ensemble returns to Los Angeles (and REDCAT) next week with Arguendo, an absurdist look at a 1991 U.S. Supreme Court case, Barnes v. Glen Theatre.
The case tested the limits of the First Amendment, questioning whether state laws prohibiting complete nudity in public—in particular, dancing nude at an Indiana strip club—violated the right to freedom of expression. During the oral argument, the Supreme Court Justices attempt to "define dance, ponder nudity in opera houses vs. strip-clubs, and ask whether naked erotic dancing is artistic expression or immoral conduct."
More from ERS:

Arguendo is a staging of Barnes v. Glen Theatre's entire oral argument, verbatim, set against Ben Rubin's OBIE-award winning projection design of animated text. The argument is interspersed with bits of real interviews with the justices, the lawyers and an exotic dancer who traveled all the way from the Déja Vu Club in Saginaw, Michigan to listen to the argument at The Supreme Court.
As expected, the court offered no black-and-white answer to the questions posed, and ERS takes full advantage of the (in)decision.
There are five performances of Arguendo scheduled at REDCAT from Nov. 6 to 9.
Event Details
Elevator Repair Service: Arguendo
Nov. 6-7 at 8:30 pm
Nov. 8 at 3 pm and 8:30 pm
Nov. 9 at 3 pm
Tickets: $30-$40 for general admission; $25-$35 for members and students and $15-$25 for CalArts community members