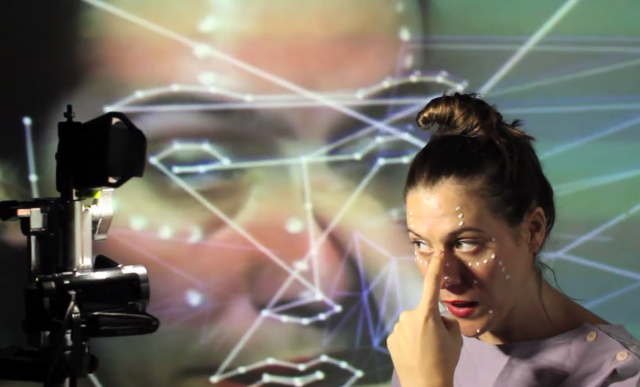 Cloud Eye Control, the LA-based multimedia performance group comprised of Integrated Media faculty Chi-wang Yang (Theater/IM MFA 07), Miwa Matreyek (Film/Video MFA 07) and Anna Oxygen (Music MFA 08), presents its latest project Half Life this weekend at REDCAT. 
The work, which amalgamates animation, experimental theatre, pop music and puppetry, was developed in part at a four-week residency hosted by the CalArts' Center for New Performance. Half Life was inspired by the nervous fear felt in the wake of natural or man-made disasters. According to REDCAT:
The starting point for the creation of Half Life was blog entries by women who experienced the 2011 Fukushima Daiichi nuclear crisis, inspiring the artists to explore the psychological fallout of global disaster, and how it affects our emotions and imaginations. The Los Angeles-based collaborators—Miwa Matreyek, Anna Oxygen, and Chi-wang Yang—bring their signature mix of projected animation, live performance and music to summon the unseeable forces that govern our collective sense of personal safety and control.
CalArts artists who are helping bring the project to life:
Performer: Jenny Greer (Theater MFA 11)
Scene Design: Efren Delgadillo (Theater MFA 03), Shannon Scrofano (Theater MFA 06)
Lighting Design: Christopher Kuhl (Theater BFA 05)
Video, Systems and Sound Design: Jackson Campbell (Theater MFA 12)
Costume Design: Kate Fry (Theater MFA 13)
Additional Video Content: Daniel Jackson (Theater MFA 15) 
Stage Manager: Kate Eipl  (Theater MFA 15)
Producer: faculty member Miranda Wright (Theater MFA 09)
The project was also developed at Duke University and Headlands Center for the Arts, and received funding from the New England Foundation for the Arts' National Theater Project, the LEF Foundation and The MAP Fund.
Above is a video of studio tests for Half Life. 
Event Details
Cloud Eye Control's 'Half Life' at REDCAT
REDCAT
Jan. 15-16, 8:30 pm: General $20, Students $16, CalArts $10
Jan 17, 4 pm and 8:30 pm (SOLD OUT): General $25, Students $20, CalArts $12
Jan 18, 3 pm: General $25, Students $20, CalArts $12