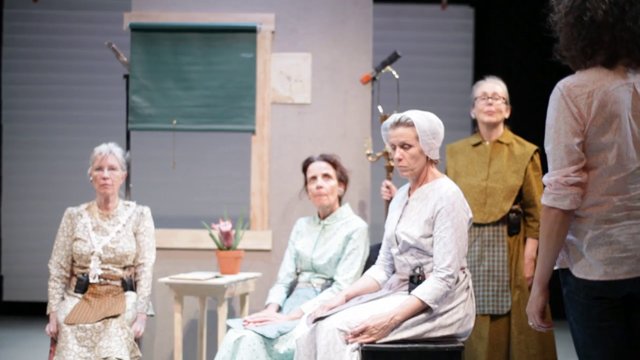 For the remainder of January at REDCAT, the New York City-based experimental theater company The Wooster Group presents its latest project, Early Shaker Spirituals: A Record Album Interpretation. The West Coast premiere features dance and music based on a 1976 LP of hymns, marches, anthems and testimony from the Shaker community in Sabbathday Lake, Maine.
Featuring a cast comprising Cynthia Hedstrom, Elizabeth LeCompte, Frances McDormand and Suzzy Roche, the performers sing 20 tracks from side A of the record, recreating the voices of traditional Shaker singers. The group accompanies the songs with choreographed dances inspired by the ecstatic states reached during Shaker worship services, which are performed by Matthew Brown, Modesto Jimenez, Bobby McElver, Bebe Miller and Andrew Schneider.  Additionally, the liner notes from the album are read by Jamie Poskin.
The Wooster Group, which is frequently in residence at REDCAT, has a tradition of using albums as source material for original productions since its inception in 1975, including Hula (1981) and L.S.D. (…Just the High Points…) (1984).
According to REDCAT, the group found Early Shaker Spirituals in the early 80s:
The piece also expresses the Group's long-standing interest in the Shakers, a millenarian, celibate, communitarian sect. In 1980, Elizabeth LeCompte, Kate Valk, and other members of the company visited the Sabbathday Lake Shaker community and met with Sister R. Mildred Barker. Around that time, the company first began listening to the record album that forms the basis for this new piece.
Barker (1897-1990), is credited for popularizing many Shaker songs and hymns during her lifetime. Listen to samples of the original Early Shaker Spiritiuals LP on allmusic.com.
The production will be remounted in Brooklyn this spring. Above is a preview video from The Wooster Group.
Event Details
Early Shaker Spirituals: A Record Album Interpretation
The Wooster Group
REDCAT
Jan. 21-25, 27-31, 8:30 pm
Feb. 1, 3 pm
Tickets: General $50, Students $40, CalArts Students/Faculty/Staff $25