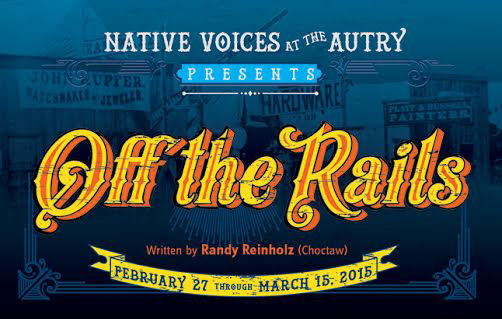 Native Voices at the Autry, a theatre company devoted exclusively to developing and producing new works for the stage by Native American, Alaska Native and First Nations playwrights, presents Randy Reinholz's Off the Rails, which opened Feb. 27 and continues through March 15, at the Autry National Center of the American West in Los Angeles.
Off the Rails, which features the work of a number of CalArtians behind the scenes, is an adaptation of William Shakespeare's Measure for Measure, relocated to the American frontier. It tackles the legacy of and cultural damage wrought by the American Indian boarding school system, but with a hint of comedy.
From the press release:
Set in the nineteenth century in fictional Genoa, Nebraska, Off the Rails focuses on Momaday, a young boarding school student who has been sentenced to death for impregnating an Irish girl. Brothel owner Madame Overdone, her working girls, and saloon patrons hatch a plot to rescue Momaday. Key to his salvation is his older sister Isabel, a graduate of a boarding school. To save her brother, Isabel must win the affections of Captain Angelo, the new superintendent of the school. 
 "A key issue in Indian country today is Indian boarding school system, whose motto was 'Kill the Indian, Save the Man,'" Reinholz says in the release. "In a moment in time when many Americans were advocating for the physical extermination of the remaining 218,000 American Indians, it might seem that cultural genocide was the more benevolent choice. Important? Yes. Heavy? Not in this production. Think Blazing Saddles meets Shakespeare—with Native Americans taking the reins."
Off the Rails stars Elizabeth Frances, Shaun Taylor-Corbett, Michael Matthys and Shyla Marlin, with projection design by Adam Flemming (Theater MFA 07), sound design by Cricket S. Myers (Theater MFA 03) and musical direction by Brian Joseph (Theater BFA 92).