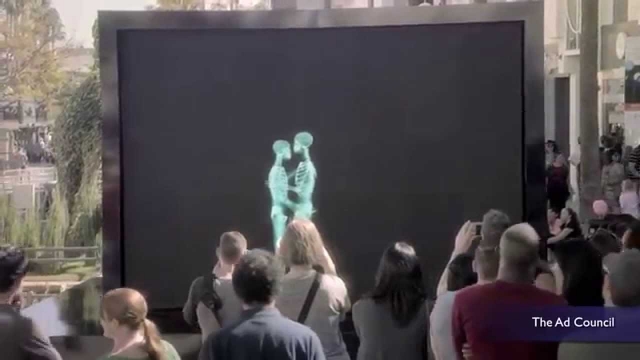 Earlier this month, the nonprofit Ad Council launched its Love Has No Labels campaign with a YouTube video that addressed hot-button issues of diversity, bias and prejudice. 
The thoughtful project and accompanying PSA, which was created with the help of 10 CalArtians, must have touched a nerve. Since its March 4 launch, the video of various couples interacting behind a screen—with the crowd on Santa Monica's Third Street Promenade only seeing their skeletons—earned more than 47 million views on YouTube. 
The campaign sheds light on how a majority of Americans consider themselves unprejudiced, but many unintentionally make judgments about people based on race, age, gender, religion, sexuality or disability.   
Among the creators of the project are video director Jeff Teeter (Theater BFA 06), art director David Offner (Theater MFA 05), art/production coordinator Amanda Smith (Theater MFA 11), set designer Giao-Chau Ly (Theater MFA 11), sensor tech Kevin Goold (theater faculty), motion capture engineer Nick Suda (Music MFA 14) and motion capture actors Rachel Ho (Film/Video BFA 14), Jake Harkey (Dance BFA 15), Rebecca Green (Dance BFA 15) and Mireya Lucio (Theater MFA 11).
The video was featured on ABC's Good Morning America, CNN, The Huffington Post, and was tweeted by First Lady Michelle Obama. Read more about the making of the project on Buzzfeed and Mother Nation Network.