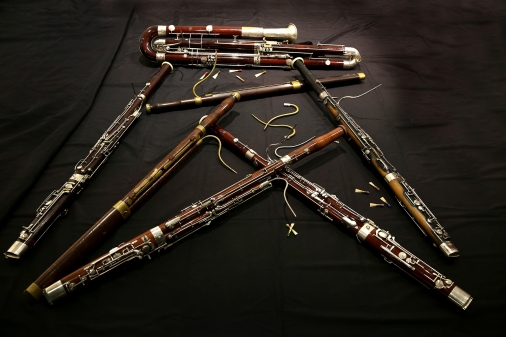 Above: Composer Michael Gordon's trance piece for seven bassoons, 'Rushes,' is on the program.
Double-reed fans, rejoice! REDCAT is hosting a pair of concerts that celebrate the bassoon, featuring a variety of compositions and improvisations performed by CalArts alumni, faculty soloists and the CalArts Chamber Orchestra. The performances are at 4 pm and 7:30 pm on Sunday (April 12).
Under the direction of faculty Mark Menzies, the orchestra will be joined by alumni bassoonists Jonathan Stehney (Music BFA 04), Sara Schoenbeck (Music MFA 99), Archie Carey (Music MFA 11) and faculty member Julie Feves.
The program demonstrates the versatility of the bassoon as an instrument, including "some innovative, downright surprising uses." More from REDCAT:
The program features Edward Elgar's rarely performed, achingly lyrical Romance for Bassoon and Orchestra; Toshio Hosokawa's theatrical masterpiece Voyage II, for bassoon and chamber ensemble; and film composer David Newman's dark and moody Movement, for bassoon and chamber orchestra, written expressly for virtuoso bassoonist Julie Feves. Capping the evening is the West Coast premiere of Michael Gordon's epic Rushes—a hourlong trance piece for seven bassoons.
Feves premiered Newman's bassoon concerto with the Long Beach Symphony Orchestra in 2007, and she currently serves as principle bassoonist with the ensemble. The piece is part of a larger five-movement work, with the other movements written specifically for clarinet, oboe, bassoon, flute and French Horn.
Gordon, who is a member of Bang on a Can music collective, wrote Rushes in 2012. The piece "brings out tonal and timbral aspects of the bassoon that are meant to induce a quasi-meditative, almost ecstatic state, in the listener as well as the performer." The piece has its L.A. premiere during the 7:30 pm performance.
Above: The CalArts Chamber Orchestra performs at art/rock/orchestra!!! at the Wild Beast in 2012.