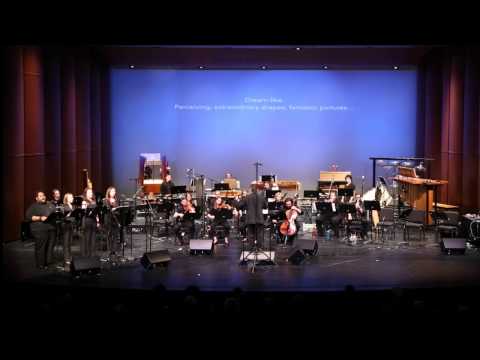 Above: 'Bicycle Day' scene excerpt from LSD: The Opera by Anne LeBaron, performed by The Industry and Wild Up.
This weekend, the MAK Center for Art and Architecture at the Schindler House in West Hollywood, Calif., presents Opera Povera at the Schindler House, a program that highlights the work of the experimental opera and design group Opera Povera. The two-night event features open rehearsals, two performances and an accompanying display of related dramaturgy.
Among the program's offerings are performances by conceptual artist and long-time School of Art faculty member Charles Gaines and harpist, composer and faculty member in The Herb Alpert School of Music at CalArts Anne LeBaron.
Gaines performs Declaration of the Rights of Women from his synesthetic project Manifestos 2. For the project, Gaines translated language from four manifestos into musical notation by substituting each letter in the manifesto with its corresponding musical note (C, D, E, F, G, A, B) and treating each letter without an equivalent note as a silent musical rest.
His performance work is based on the 1791 speech by French activist and playwright Olympe De Gouges. The manifesto, dedicated to Marie Antoinette and modeled after the Declaration of the Rights of Man and of the Citizen (which was adopted by the French Revolution), exposes how the revolution has failed because it was unsuccessful in bringing about gender equality.
Gaines' Declaration of the Rights of Women is arranged by Opera Povera director Sean Griffin and performed by numerous CalArtians among the Isaura String Quartet and the Grammy-winning Partch Ensemble.
Soprano Laura Bohn and music faculty Timur Bekbosunov sing in the most recently completed scene from LeBaron's new work LSD: The Opera, accompanied by Isaura String Quartet and Partch Ensemble. The new scene features an encounter between the American psychologist and psychedelic drug advocate Timothy Leary and Mary Pinchot Meyer, a socialite, painter and a mistress of president John F. Kennedy.
The scene is scored for an ensemble of instruments built by composer Harry Partch. The Partch players double as a chorus, intoning the parts of Mellon family fortune heirs Peggy, Billy and Tommy Hitchcock, who provided Leary with a mansion in Poughkeepsie, New York, to use as a home base for his experiments.
Isaura String Quartet is composed of CalArtians Emily Call (Music MFA 13), Madeline Falcone (Music MFA 13), Betsy Rettig (Music 12) and Melinda Rice (Music MFA 06). Partch Ensemble is composed of faculty David Johnson, Ulrich Krieger and Paul Berkolds, as well as CalArts alumni Erin Barnes (Music BFA 97), Matt Cook (Music MFA 10), Yumi Lee (Music BFA 10), Derek Stein (Music MFA 10), Nick Terry (Music MFA 04), T. J. Troy (Music MFA 01) and Alex Wand (Music MFA 12).
The program also features performances of music by Griffin with Aiyun Huang and Chris Warren, Pauline Oliveros, Juliana Snapper, Partch and George Lewis.