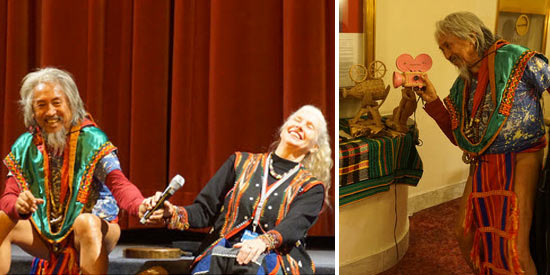 Above: An excerpt from Kidlat Tahimik's Mababangong Bangungot (Perfumed Nightmare).
Legendary Filipino filmmaker Kidlat Tahimik is in residence at CalArts this week (April 14-20). As part of his residency, the Institute holds three public screenings of his films on campus with an additional screening at Roy and Edna Disney/CalArts Theater (REDCAT).
Tahimik, whose pseudonym means "quiet lightning" in Tagalog, was born Eric de Guia in the northern Philippine city of Baguio, a summer resort community that is home to both American military bases and the Ifugao people, an indigenous Filipino tribe. A graduate of the University of the Philippines, Tahimik went on to earn a master's degree in Business Administration at The Wharton School at the University of Pennsylvania.
In 1975, he renounced both his business career and name and began questioning his American education, or as he put it, his "benevolent assimilation." Two years later, he produced Mababangong Bangungot (Perfumed Nightmare), a film now heralded as a key text of both Third World Cinema and the personal essay film.
An obsessive cultural observer, Tahimik has been exploring his inner cultural contradictions since. This process of "introspection on celluloid strips" is his way of digging out the sariling dwende (one's inner instincts, the voice of creativity and images resting inside everyone's imagination wanting to be expressed) buried in the "education" process.
Tonight (April 14), Structuring Strategies presents Tahimik's Bakit Dilaw ang Kulay ng Bahaghari (I Am Furious Yellow) (1983-94). Berkeley Art Museum & Pacific Film Archive's (BAM/PFA) Christopher Pavsek writes:
In an age of rising seas and collapsing economies, I Am Furious Yellow shows us how to be furious at all the injustice in the world, but also how to face that injustice with the utmost joy. There are, indeed, few, if any, films like this in the world.
On Wednesday (April 15), the filmmaker will choose a film to screen at the Bijou Auditorium.
Film Today on Friday (April 17) presents Balikbayan #1 Memories of Overdevelopment Redux III (2015). The film uses Tahimik's Memories of Overdevelopment, shot in 1980 and never finished, as its base narrative. The 1980 film follows Enrique (played by Tahimik), Ferdinand Magellan's Filipino slave and translator. In the decades since, the actors have aged and Tahimik redoes the film and subsumes it in a contemporary narrative, casting one of his sons as Enrique.
The result is "a home movie, a flamboyant epic, a study of colonialism, a historical corrective and an homage to what Tahimik calls 'indigenius,'" according to the Berlinale Festival.
In addition to his CalArts residency, REDCAT's film series presents a revival screening of the 1977 film essay Mababangong Bangungot (Perfumed Nightmare).  The film follows Tahimik as he plays a jeepney driver obsessed with American culture and his subsequent disillusionment with Western cultural colonialism.
Event Details
Kidlat Tahimik in Residence