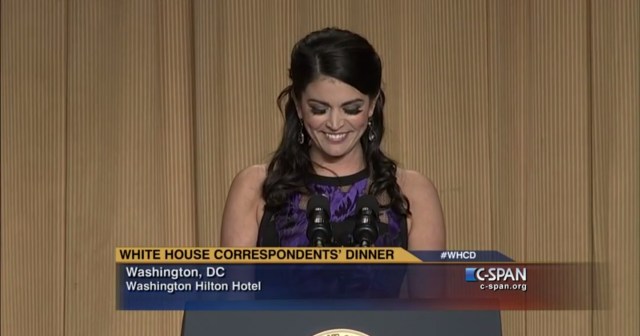 Saturday Night Live star and CalArts alumna Cecily Strong (Theater BFA 06) hosted the 2015 White House Correspondents' Dinner on Saturday (April 25) night. The annual event, attended by President Barack Obama, journalists and Hollywood stars, is a celebratory fete of journalism and Washington politics.
The comedian-actress mocked everyone—from President Obama to print journalists—and even referenced the issue of police violence toward African Americans and her own desire to eat "bathroom pizzas."
Strong, only the fourth female comedian to host the event (which dates back to 1920), took the podium following a comedic speech from Obama. "Feels right to have a woman follow President Obama, doesn't it?" Strong quipped, not-so-subtly referring to 2016 Democratic presidential candidate, Hillary Clinton.
Strong, who, like the president, is from Chicago, joked that the two used to shoot hoops together. "I'd lace up a pair of Jordans, he'd slip on a pair of my mom's jeans. We would just miss 3-pointers until sundown when, of course, we'd have to stop and pray to Mecca."
In addition to her SNL duties, Strong is set to play a supporting role in Paul Fieg's Ghostbusters reboot in 2016, alongside stars Kristen Wiig, Leslie Jones, Kate McKinnon and Melissa McCarthy.