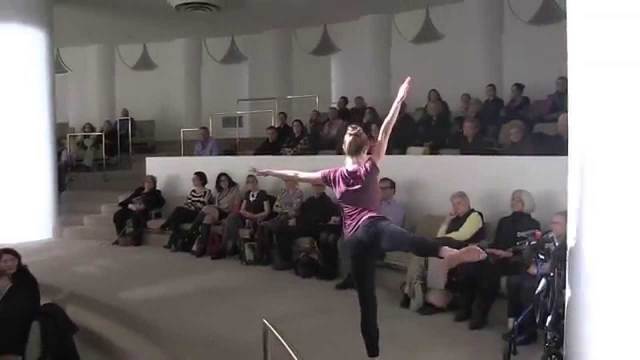 Above: A preview of 'Broken Story (wherein there is no ecstasy),' a collaboration between Pam Tanowitz and Pulitzer Prize winning composer David Lang. The work premiered at Works & Process at the Guggenheim in February 2015.
The Sharon Disney Lund School of Dance at CalArts has commissioned three nationally recognized choreographers to create new works for the second annual Evelyn Sharp/CalArts Summer Choreographic Residency, which runs at the Institute from May 18-29.
Acclaimed CalArts faculty members Colin Connor and Julie Bour, co-founder of production company The Flying Mammoth; as well as New York City-based choreographer and Guggenheim Fellow Pam Tanowitz, founder of Pam Tanowitz Dance, are this year's residents.
The two-week residency includes ample rehearsal time, the opportunity for creative research, access to theater facilities and support staff, and concludes with an invitation-only showing of the new works in The Sharon Disney Lund Dance Theater. As an additional component of the residency, Tanowitz returns to CalArts during the 2015-16 academic year for a series of master classes with dance students.
The Sharon Disney Lund School of Dance students are also given an opportunity to work with the resident artists as the choreographers have an opportunity to hire a current student or students to participate as an understudy and artistic intern(s).