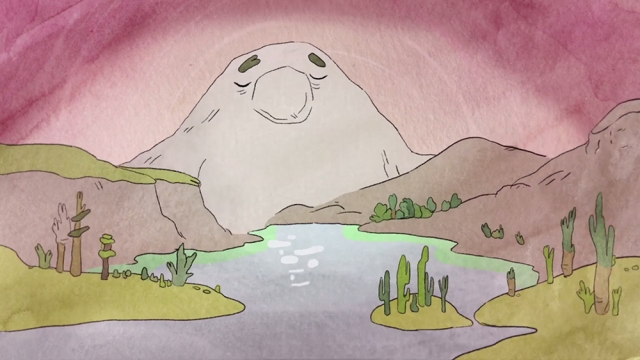 Above: Seth Boyden's 'An Object at Rest.'
On the evening of May 6, students, faculty, staff and representatives from the animation industry gathered at the Directors Guild of America theater in West Hollywood for the annual CalArts Character Animation Producers' Show.
"Our legacy speaks for itself," Provost Jeannene Przyblyski told the packed theater in her opening remarks, referring to the animation giants who call CalArts their alma mater, before naming some recent highly acclaimed alumni work: Big Hero 6, The Book of Life, Star vs. The Forces of Evil and Adventure Time, among them.
Program Director Maija Burnett congratulated the students for "taking the internet by storm," citing that the graduating class' Vimeo channel has garnered a combined 1 million views in two weeks.
The night's guest of honor was former Character Animation Program Director Dan Hansen, who acknowledged Burnett and the rest of the Character Animation faculty for keeping the program "on the razor's edge between art and industry."
Before the 23 films were screened, two awards were presented. The first, the Peers' Pick Award was given to John Kim, whose live action-animation hybrid Battle Deadline sends Character Animation students into a fight for the survival of their final films. This is the second time that Kim has won the award.
Above: John Cody Kim's 'Battle Deadline.'
The Walter and Gracie Lantz Animation Prize, better known as the Woody Award, was given to Seth Boyden for his film An Object at Rest, which traces the journey of a very sleepy rock, from its beginnings as a slow-growing mountain to the many fast-paced changes it goes through thanks to human industry.
As always, the selection of films showcased the technical expertise and varying personal styles of the animators. Animated frogs were plenty this year in films such as Rhea Dadoo's Croaked and Yon Hui Lee's Dodoba. Reflections on identity, the environment and society were tackled in Yonatan Tal's Aquarium, Erin Kim's Ear Fear, Boyden's An Object At Rest, Aron Bothman's The Red Witch and Vincent Tsui's Made in China.
Above: Yon Hui Lee's 'Dodoba (どどば).'
A puppet tries to fit into the business world in Wesley Fuh's Sherm while Ben Mansfield's Khan imagines an alternative history, all while making the audience laugh.
The evening was dedicated to longtime Character Animation faculty Leo Hobaica, Jr., who passed away late last year.
See all of the films from the night's program, as well as all of the year's films, on the 2015 CalArts Character Animation Student Films Vimeo channel.
Below are photos from the Producers' Show.