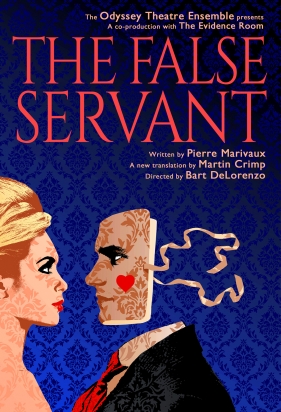 Odyssey Theatre Ensemble and Evidence Room present the Los Angeles premiere of French playwright Pierre Carlet de Chamblain de Marivaux's The False Servant on Saturday (July 11) at the Odyssey Theatre in West Los Angeles.
This production of a new translation by Martin Crimp of the 18th century text includes CalArtians both on stage and off.
In The False Servant, a woman known as the Chevalier disguises herself as a knight in order to discover the motives of her fiancé Lélio before they are married. She finds out that her suitor has also betrothed himself to the Countess and is nothing but a gold digger. To get even, she attempts to seduce the Countess in order to cheat Lélio out of his money.
School of Theater faculty Bart DeLorenzo directs the production and Leah Piehl (Theater MFA 06) designs the costumes. The Countess is played by CalArts alumna Dorie Barton (Theater BFA 93), while Mathew Bazulka (Theater BFA 11) plays Arlequin, Lélio's lackey.
From a press release:
On the surface, The False Servant is a sly romp in which a woman dresses as a man to learn more about her husband-to-be. But a world of darker meaning lies beneath the wit and verbal exuberance. In Marivaux's heartless comedy of bad manners, lust and avarice infringe upon the finer feelings of love.

"Marivaux explores the ambiguities of classic comedy—the nature of love and of attraction—in a very modern way," says DeLorenzo. "Martin Crimp gives us a translation that feels fresh and alive, yet still retains the precision of Marivaux's language."
The False Servant runs through Sept. 6. Below are selected production photos.