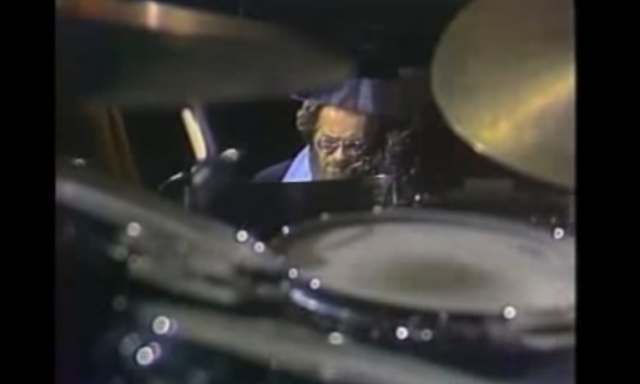 Above: Bill Evans Trio – 'Nardis'
Joe LaBarbera, renowned drummer and longtime faculty member of The Herb Alpert School of Music at CalArts, performs with his trio on Saturday (Aug. 1) at the Boston Court Performing Arts Center in Pasadena, Calif., in a program that honors the late, great jazz pianist and composer Bill Evans.
LaBarbera, who has worked with a number of influential musicians including Chuck Mangione, Woody Herman, Phil Woods, Art Pepper, Tony Bennett and others throughout his career, joined Evans and bassist Marc Johnson in 1978. The combination would prove to become one of Evans' most memorable outfits, although its trajectory was cut short by Evans' untimely death in 1980.
In the jazz.com piece, "Remembering Bill Evans," critic and writer Ted Goia recalls seeing Evans perform for the last time at Keystone Korner in San Francisco:
Evans benefited from the arrival of new trio members toward the end of the decade. Marc Johnson and Joe LaBarbera forced Evans to reinvent himself, and the body of work this trio left behind (most notably their live recordings in Paris) reveals a new tautness and vigor in the pianist….

The trio attacked the songs they played that night. One might think that Bill Evans at the end would return to the introspective romanticism of his early work—after all, that would seem an easier route for an ailing man than to try to reach a high level of intensity. But Evans did not go gently into that good night. His playing was acerbic and biting, almost completely purged of sentimentality. Johnson and LaBarbera were playing at top form, and also shared some of the aggressive vibes coming from the piano bench. The trio stretched out at length on the song "Nardis," which Evans seemed to enjoy as a musical sparring partner in these final days, and the music was hot and brittle.
Marching to the Beat of His Own Drum: The Music and Life of Bill Evans begins at 8 pm on Aug. 1.



Above: Joe La Barbera Quintet – Kind Of Bill (For Bill Evans)