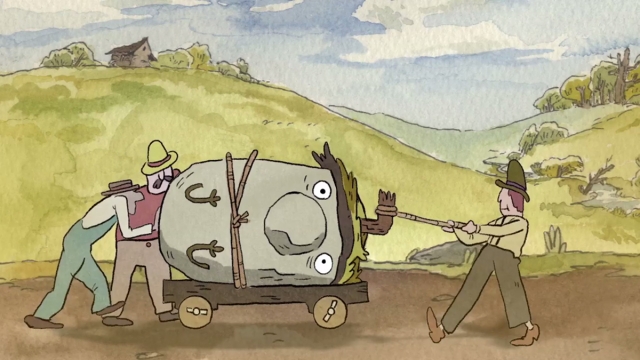 Above: Seth Boyden's 'An Object at Rest.'
Months after winning the Woody Award at the 2015 CalArts Character Animation Producers' Show, Seth Boyden's (Film/Video BFA 15) An Object at Rest is getting even more recognition. The animated short is among seven student films nominated for Best Animation at the 2015 Student Academy Awards, announced the Academy of Motion Picture Arts and Sciences on July 30.
Boyden's six-minute film, which has more than 300,000 views on Vimeo, tells the story of a rock as it undergoes natural processes and faces its greatest challenge: human civilization.
Other films in the running for Best Animation are Jack Anderson's Wire Cutters, Lynn Tomlinson's The Ballad of Holland Island House, Alyce Tzue's SOAR, Nicholas Manfredi's and Elizabeth Ku-Herrero's Taking the Plunge, Tom Teller's Hum and Jenna Hamzawi's Ram's Horn.
The Student Academy Awards were established in 1972 to support and encourage excellence in filmmaking at the collegiate level. Past winners include CalArts alumni John Lasseter (Film/Video BFA 79) and Pete Docter (Film/Video BFA 90).
Winners will be announced at an awards ceremony on Sept. 17.