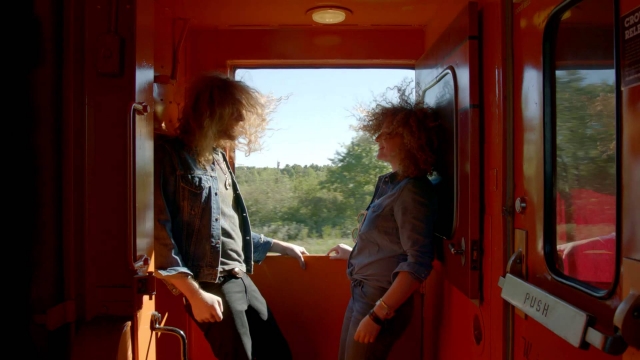 Above: Trailer for 'Station to Station.'
On Friday (Aug. 21), the Nuart Theatre in West Los Angeles opens a weeklong run of Station to Station, a film offshoot of the eponymous traveling art project conducted by artist Doug Aitken in September 2013.
The film, which consists of 62 one-minute shorts, is a chronicle of the visual art, music and dance which transpired during Station to Station's month-long run from New York to San Francisco. The project involved a nine-car train conducting public art happenings in 10 cities along the way, inviting various artists to congregate and perform and to make art on the train.
The roster of artists included Beck, Patti Smith, Cat Power and CalArts alumni Liz Glynn (Art-IM MFA 08), Catherine Opie (Art MFA 88), Ariel Pink—aka Ariel Rosenberg (Art BFA 00), Ed Ruscha (Chouinard 60) and Mark Bradford (Art BFA 95, MFA 97), School of Art faculty Sam Durant and former faculty Nam June Paik.
"The Station to Station film is a fast-moving journey through the modern creative landscape. It's a kaleidoscope of voices and impressions rather than a standard linear film," says Aitken in an interview with The Los Angeles Times. "After the 4,000-mile journey, we returned to the studio with a huge amount of footage… I actually started the editing process with the idea of creating a more traditional, linear documentary, but I realized that just wouldn't be true to all of the diverse individuals, music and artworks that were part of the project. What it demanded was a very different stricture, a completely new film."
In a review for The Hollywood Reporter, Boyd van Hoeij writes:
What we're looking at is, in essence, an artwork that looks at other art—a concept film about a conceptual art project. It suggests that a one-minute part can be the whole for one viewer or that, conversely, the whole is made up of an infinite amount of smaller parts that can each tell only a small part of the story. The many short fragments also evoke something of the frenzy of contemporary travel itself, with all those people and stories passing each other in rapid succession in various directions, with only fleeting glimpses of their true identities. That's quite a lot to take away from a 71-minute investment.
Friday's screenings will also feature a number of guest appearances, including a Q&A with Aitken and musical performances by No Age and White Mystery. Saturday's (Aug. 22) 7:30 screening features a Q&A with the director and a musical performance by Sun Araw.