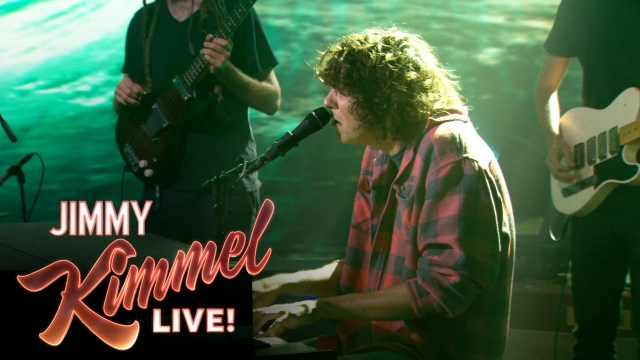 Above: Tobias Jesso, Jr. performs 'Crocodile Tears' on 'Jimmy Kimmel Live!'
On Monday night (Aug. 24), singer-songwriter Tobias Jesso, Jr. performed on Jimmy Kimmel Live! in support of his criticaly-acclaimed debut album, Goon. Singing two ballads from the record, Jesso enlisted the help of three CalArtian musicians: accordionist Max Whipple (Music BFA 15), saxophonist Ryan Parrish (Music MFA 12) and saxophonist Colin Kupka (Music BFA 08).
"The experience was so awesome—it was my first time performing on TV," said Whipple via phone, who also wrote the arrangements for Jesso's album with violist Ali Balouzian.
Whipple says he began working with the songwriter after Jesso attended the performance of the musicians' band, Duk. "When he later formed his band [to support Goon], he asked us to perform with him."
On Sept 29, the musicians embark on Jesso's first major tour throughout the U.S., followed by a world tour in November. Jesso was also accompanied by Duk during his FYF Fest set over the weekend in Los Angeles.