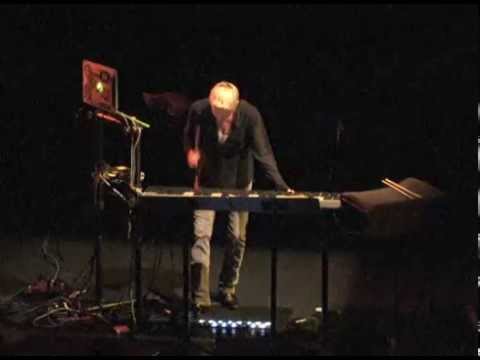 Above: Amy Knoles performs at REDCAT.
Tomorrow (Sept. 23), Trepany House at the Steve Allen Theater in Hollywood presents an evening of experimental music featuring Banetoriko, Telecaves and The Herb Alpert School of Music at CalArts faculty Amy Knoles.
Knoles, executive director of contemporary classical music ensemble California E.A.R. Unit, performs computer-assisted live electronic music with percussion controllers and linear and interactive video.
Banetoriko is Japanese artist Tamaki Ueda's solo noise project, inspired by yokai, the Japanese term for supernatural creatures. The artist uses a self-made metal instrument called a banetek to create "anxious noise-scapes." Elaine Carey and Juliette Amoroso make noise and experimental music under the name Telecaves.
The evening's performance is part of Resbox, a monthly program of experimental music curated by artists Hans Fjellestad and Kio Griffith.