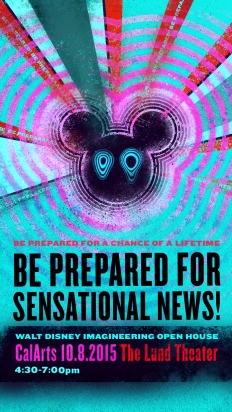 Walt Disney Imagineering comes to CalArts on Thursday (Oct. 8) for WDI Day, also known as the Walt Disney Imagineering Open House. The event, which begins at 4:30 pm at The Sharon Disney Lund Theater, includes a panel discussion with current Imagineering artists, meet-and-greets with WDI Human Resources representatives and a Q&A. Students from all CalArts' schools are welcome to attend.
As the design and development arm of The Walt Disney Company, WDI merges Disney's storytelling legacy with the latest technology in its theme parks, resorts and cruises around the world. Imagineers are the master planners, designers, engineers and artists behind such famous Disney rides as Splash Mountain and The Haunted Mansion, shows such as World of Color, and more recently, the upcoming Star Wars-themed attractions.
During WDI Day's final workshop, Ask Us (Almost) Anything, students are teamed in small groups with Imagineers to discuss how CalArts metiers relate to WDI disciplines and careers as well as the themed entertainment industry and more. WDI departments represented include:
Music Direction / Sound Design;
Lighting Design / Show Art;
Media;
Color and Design;
Production Design;
Technology Innovation (R&D);
Creative Direction / Animatronics; and
Character Costuming / Creative Entertainment.
To sign up for Ask Us (Almost) Anything at CalArts' WDI Day, please RSVP.

Above: A clip from 'World of Color.'
Event Details
Walt Disney Imagineering Day
Oct. 8, 4:30-7 pm
The Sharon Disney Lund Theater, CalArts
24700 McBean Parkway, Valencia
Free
Admission limited to CalArts students