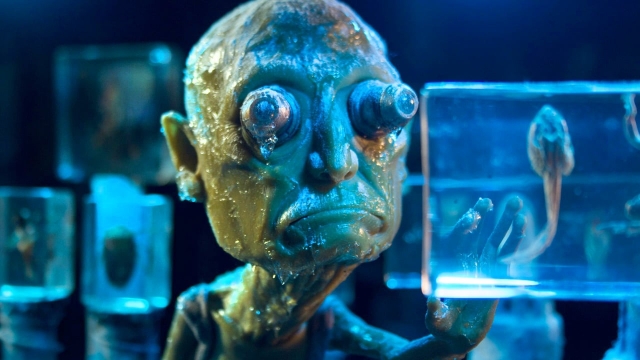 Above: Quique Rivera's 'Así de grandes son las ideas.'
Artist and filmmaker Quique Rivera's (Film/Video MFA 14) short film, "Así de grandes son las ideas," was recently nominated for a Latin Grammy Award for Best Short Form Music Video. The awards, which honor the outstanding achievements of the Latin music industry, will be presented at a ceremony at the MGM Grand Garden Arena in Las Vegas on Nov. 19.
The futuristic short, about a lonely old man unable to die, was Rivera's CalArts thesis film for the Experimental Animation program. Made in collaboration with René Pérez Joglar, front man for the alternative Puerto Rican band Calle 13, the project took more than a year to develop, fabricate and film in stop motion. Since its release last September, the film has been making the festival rounds, screening in more than 40 international film and animation festivals. It has already earned several awards, including Best Animation at the Los Angeles Independent Film Festival and the Rincón Film Festival.
From April to August this year, Rivera had a solo show at the Museo de Arte de Puerto Rico. The exhibition, Fabricando Tiempo: Objetos, procesos y animaciones de Quique Rivera Rivera, included puppets and props from "Así de grandes son las ideas" and "El delirio del pez león," which was his first-year CalArts short.
Calle 13's album MultiViral, which features the song "Así de grandes son las ideas," already won the Grammy Award in February for Best Latin Rock, Urban or Alternative Album. At the Latin Grammy Awards, Rivera's video competes against another Calle 13 music video, "Ojos Color Sol," as well as "Te Busqué" by Willbert Álvarez, "No Llora" by El Cuarteto De Nos and "Huitzil" by Porter.