Following the critically-acclaimed run of The Johnny Cycle: Part I – The Quick and the Dead, The Speakeasy Society is bringing to life an intimate and unique retelling of Washington Irving's "The Legend of Sleepy Hollow" in The Hollow—an immersive dinner theater adaptation to usher in the Eve of All Hallows this week.
There are only two performances left in the run, tonight and tomorrow night at Chloe's Pub, discreetly tucked away in Atwater Village's Golden Road Brewery. Admission includes a three-course meal paired with one of the brewery's award-winning beers.
Founded by Genevieve Gearhart (Theater MFA 12) and Julianne Just (Theater MFA 12), The Speakeasy Society was named "Best Emerging Immersive Theater Company" by the LA Weekly in this year's "Best of L.A." issue.
The rambunctious Halloween production entwines "The Legend of Sleepy Hollow" with other famous stories by Irving (including "Rip Van Winkle," "The Pride of the Village," "The Devil and Tom Walker" and "The Spectral Bridegroom") as well as elements from the myths and legends of New England at the turn of the 19th century.
The Hollow is directed by Just and Gearhart. The cast includes School of Theater alums Matthew Bamberg-Johnson (MFA 13), Michael Bates (MFA 14), Zan Headley (BFA 14), Alexis Macnab (MFA 13), Nikhil Pai (MFA 12], Michael Pignatelli (MFA 12), Paula Rebelo (BFA 13) and Anne Yatco (MFA 09). The costume designer is Kate Fry (MFA 13); the consulting producer is Cathrin Farrar (MFA 14); and the music is by frequent collaborator Chris Porter (Music MFA 09).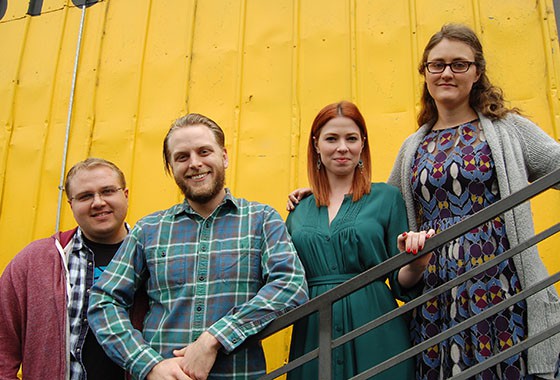 L-R: Porter, Bamberg-Johnson, Gearhart, Just. Photo courtesy The Speakeasy Society
Event Details
The Speakeasy Society's 'The Hollow'
Oct. 28-29, 8 pm
Chloe's Pub, Golden Road Brewery
5410 W. San Fernando Rd.
Glendale, CA 91203
Tickets: $65 (includes three-course dinner and beer pairing)