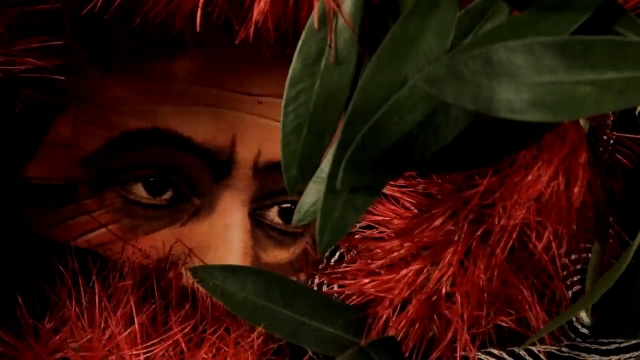 Above: Janie Geiser's 'The Hummingbird Wars.'
To mark the passing of the legendary filmmaker Chantal Akerman, Indiewire released a list of "Avant-Garde Female Filmmakers Who Redefined Cinema." School of Theater faculty Janie Geiser and alumna Akosua Adoma Owusu (Film/Video, Art MFA 08) were among six women "whose contributions to the tradition of experimental film continue to change the landscape of art cinema." On the list, Geiser and Owusu were joined by cinematic pioneers Maya Deren, Barbara Hammer, Shirley Clarke and Germaine Dulac.
Internationally recognized as a visual/theater artist and experimental filmmaker, Geiser teaches puppetry in the School of Theater. She began making films in 1990, first as elements of her performances and installations, and later as distinct works for screening, as well as for installations. Indiewire praised Geiser's "astonishing visions of alternate realities combining puppetry, video and performance," and commented that her "experimental object performance films are intensely adult ruminations on mature fears and anxieties."
Geiser is presently engaged in two new projects, a series of short films based on found photographs, and Here/There, a performance work exploring the physical and psychological aftermath of war. Working with her on the Here/There creative team are alumni Jason Barlaan (Theater, 2014, MFA) and Hsuan-Kuang Hsieh (Theater, 2015, MFA).
Owusu is an American-born filmmaker and producer of Ghanaian parentage. Her films have screened worldwide in museums, prestigious film festivals, galleries, universities and microcinemas.  According to Indiewire, "Owusu seamlessly transitions between experimental cinema, fine art and African tradition in order to create avant-garde films that question the nature of identity…trafficking in the 'complex contradictions' of blackness, displacement and memory."
Blending traditional West African fable with semi-autobiographical elements, Owusu's film Kwaku Ananse won the African Movie Academy Award for Best Short Film in 2013. The film, along with her experimental short Intermittent Delight, is currently on view at Art + Practice in Los Angeles through November 21.

Akosua Adoma Owusu – Kwaku Ananse Trailer from Obibini Pictures LLC on Vimeo.