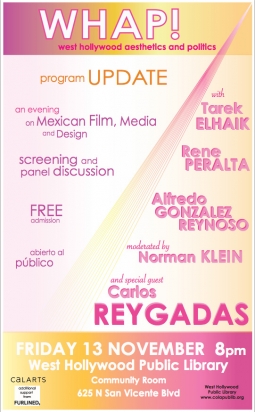 On Friday (Nov. 13), West Hollywood Public Library hosts a number of theorists and filmmakers as part of CalArts' Aesthetics and Politics Program's WHAP! Lecture Series.
The event, titled "Media in the Americas," includes a film screening and panel discussion about "Mexican America" in film and design. Critic, novelist and School of Critical Studies faculty Norman Klein moderates the panel.
The evening's panelists are:
Mexico City-based film director and producer Carlos Reygadas, who won Best Director at the 2012 Cannes Film Festival for his film Post Tenebras Lux;
Professor of Anthropology at UC Davis, Tarek Elhaik, whose work is based on intensive participant-observation in contemporary art and curatorial worlds, including fieldwork in Mexico City where he was particularly attentive to the formal inquiries, image-making processes, and writings of media artists;
Art and film writer Alfredo González Reynoso, Professor of Social Science and Humanities at Universidad Autónoma de Baja California; and
Rene Peralta, whose architecture and research projects concentrate on urban design in contested global territories.