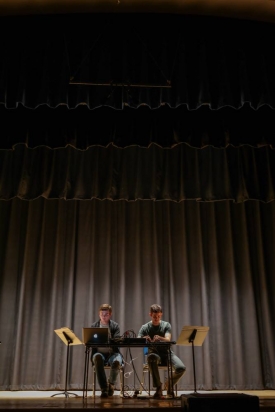 CalArts composition faculty Michael Pisaro is presenting the world premiere of his most recent work, Grounded Cloud, in a two-part concert Wednesday night (Nov. 18) at the Roy and Edna Disney/CalArts Theater (REDCAT). The program, "Michael Pisaro: Fogs, Mists," also includes the first Los Angeles performance of a mist is a collection of points.
Known as one of the key members of the John Cage-inspired Wandelweiser collective of experimental composers, Pisaro will play guitar alongside Joe Panzner (electronics) and Greg Stuart (percussion) to open the concert with the new composition, a 20-minute work inspired by a poem by Beijing-born American author Mei-mei Berssenbrugge. Following intermission, Panzer and Stuart will be joined by pianist Phillip Bush to perform a mist is a collection of points, an hourlong piece.
Pisaro, whose extensive oeuvre has appeared on Edition Wandelweiser Records, erstwhile records, another timbre, HEM Berlin, and his own imprint, Gravity Wave, has written the following in the program notes:
A mist is a collection of points—but every mist has a context. There are the individual droplets, but then there are the forces that hold them in suspension and with enough proximity that we recognize coherence. Inside the mist there might be places where it seems to disappear altogether, where it becomes atomized and separate, even though, from a distance away one is still in the midst (of the mist). There might also be places where the mist becomes so dense that it is more like a wall. We live in a kind of mist as well, in a world where there is neither absolute clarity nor absolute opacity. There are only degrees or intensities of these.
To find out more about Pisaro and his take on experimental music, check out this interview on Brainwashed.