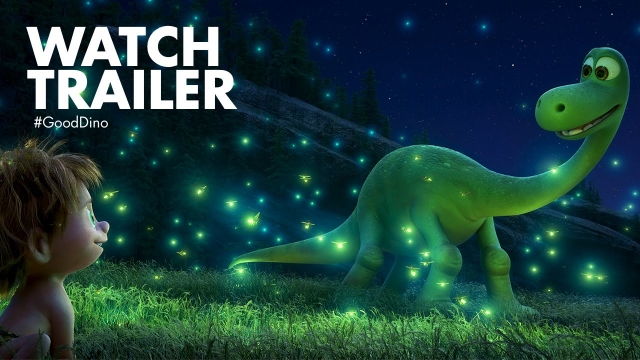 Above: Trailer for 'The Good Dinosaur.'
On Wednesday (Nov. 25), Disney/Pixar releases its second movie of the year, The Good Dinosaur, just in time for Thanksgiving. Set in an alternate universe in which the meteor that wiped out the entire dinosaur population never reached Earth, the film shows a co-existence between humankind and dinosaurs. One human in particular, named Spot, helps an overly cautious Apatosaurus named Arlo find his family after he's separated from them in a flash flood.
Behind The Good Dinosaur is first time feature film director and CalArts alumnus Peter Sohn (Film/Video BFA 99). Sohn is a Pixar veteran, working in the art and story departments for Finding Nemo, The Incredibles, and WALL-E. He is the inspiration for Russell, the young boy in Up, and was the voice of Emile in Ratatouille. In The Good Dinosaur, he lends his voice to Forrest Woodbrush, a Styracosaurus who collects forest creatures to protect him.
In an interview with Fresh Air's Terry Gross, Sohn talks about the inspiration for the new film:
When you make a "what if" like that, you could really go anywhere… In the early development, I was just doing some drawings and I started this one drawing of a long-neck type of an Apatosaurus with his head in the ground plowing the earth, and there was something really kind of interesting about a dinosaur almost like a giant tractor and farming.
"The production's photorealistic naturalism is a true bar-raiser," writes The Hollywood Reporter in an early review. "Those CG-rendered backdrops, taking their visual cues from Yellowstone's waterfalls to Montana's grasslands, bring that custom Pixar cutting-edge technology into an exciting, new, wondrous place."