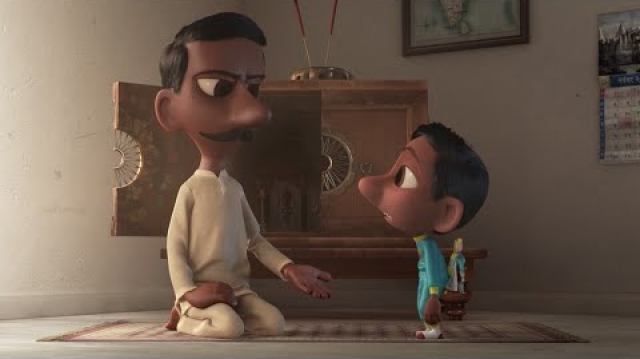 Above: A clip from Sanjay Patel's 'Sanjay's Super Team.'
Last week, the Academy of Motion Picture Arts and Sciences revealed the 10 animated short films that have made the Oscars' shortlist. Among the titles are two by CalArts alumni: Seth Boyden (Film/Video BFA 15) and Sanjay Patel (Film/Video 96).
Boyden's An Object At Rest, the 6-minute short that won Silver in the 42nd Student Academy Awards and the Woody Award at this year's CalArts Character Animation Producers' Show, provides a glimpse into the life of a rock as it lives through the millennia. Julian Beutel (Music MFA 14) provides the soundtrack to the short.
Patel's Sanjay's Super Team tells the story of a young boy who, bored with his father's religious meditations, imagines the superheroes he likes watching on TV as Hindu gods and goddesses. The film premiered at this year's Annecy International Animated Film Festival in France and is set to screen in theaters with Disney/Pixar's The Good Dinosaur, which opens today (Nov. 25).
The Oscar nominations will be announced live on Jan. 14, 2016.