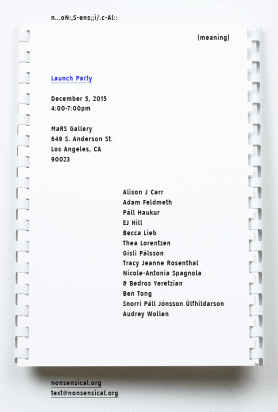 On Saturday (Dec. 5), N-o-nS…e;nSI/c::::a_L releases their second issue "(meaning)" with a launch party hosted by MaRS (Museum as Retail Space) Gallery in Los Angeles.
N-o-nS…e;nSI/c::::a_L is a publication that features writings by artists about "the uncertainties that dictate our culture, space & actions."
Among the contributors in this second iteration of the journal are artists and CalArts alumni Alison J. Carr (Art MFA 09), Adam Feldmeth (Art BFA 08), Becca Lieb (Art MFA 14), Thea Lorentzen (Film/Video MFA 13), Tracy Jeanne Rosenthal (Critical Studies MFA 12), Nicole-Antonia Spagnola (Art BFA 16) with Bedros Yeretzian (Art BFA 14), Ben Tong (Art MFA 12) and Audrey Wollen (Art BFA 15). Artists Gísli Pálsson, Páll Haukur, EJ Hill and Snorri Páll Jónsson Úlfhildarson also contribute to this issue.
N-o-nS…e;nSI/c::::a_L (meaning) will be available for purchase at the launch event and online.