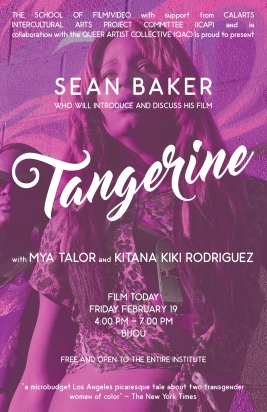 Tomorrow (Feb. 19), the CalArts School of Film/Video, with support from CalArts Intercultural Arts Project Committee (ICAP) and in collaboration with the Queer Arts Collective (QAC), presents director Sean Baker, who introduces and discusses his film Tangerine, as part of the Film Today class run by faculty Bérénice Reynaud.
Tangerine is a "fast, raucously funny comedy about love and other misadventures" that follows two transgender prostitutes as they make their way through Hollywood on a chaotic Christmas Eve. The first scene shows Sin-Dee Rella (played by Kitana Kiki Rodriguez) reuniting with her best friend Alexandra (played by Mya Taylor) after a 28-day stint in jail. As they share a donut, Alexandra lets slip that Sin-Dee's pimp and boyfriend, Chester (played by James Ransone), has been cheating on her with a cisgender woman. Sin-Dee goes on full revenge mode, while the more equanimous Alexandra tags along.
The film, co-written by Baker and Chris Bergoch, was shot entirely with an iPhone. More from The Hollywood Reporter:
Baker and Bergoch researched their script by interviewing a number of transgender prostitutes in the area. While their protagonist's name is a tip-off to the story's subversive fairy-tale element, there's also something of an ethnographer's anonymity afforded by using cameras that can be so nonintrusive. That must certainly have helped in getting such unself-conscious work from the cast, especially the transgender characters, who in a sense are always performing.
In a review for The New York Times, Manohla Dargis writes: "Tangerine encompasses dizzying multitudes—it's a neo-screwball chase flick with a dash of Rainer Werner Fassbinder—but mostly, movingly, it is a female-friendship movie about two people who each started life with an XY chromosome set."
Above: Trailer for 'Tangerine.'