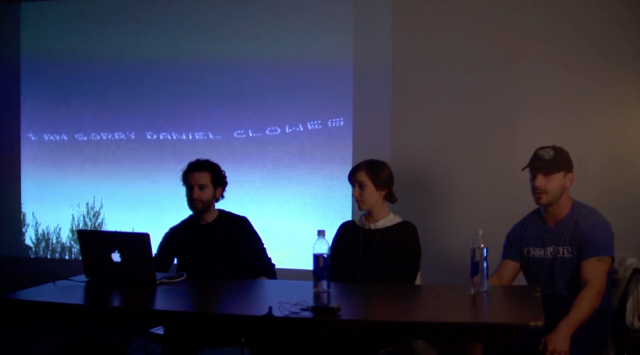 by Leann Lo, MFA 1 student in CalArts' Creative Writing Program
It was standing room only inside the F200 classroom at CalArts on Feb. 3 for a Paul Brach Visiting Artist Lecture Series given by the collaborative arts practice of LaBeouf, Rönkkö, & Turner (Shia LaBeouf, Nastja Säde Rönkkö and Luke Turner).
LaBeouf started the lecture by first explaining the origins of their collective. In 2012, LaBeouf's directorial debut—the short film HowardCantour.com—premiered at the Cannes Film Festival. When it was posted online in 2013, some began to notice that the film was an uncredited, close adaptation of a graphic novel by Daniel Clowes. LaBeouf was accused of plagiarism by many, including Clowes. In an effort to apologize, LaBeouf at one point hired a skywriter to write the words, "I am sorry Daniel Clowes" above Hollywood. During this same time period, LaBeouf began researching art theories and came across Turner's "Metamodernist Manifesto." This work, Turner said during the lecture, is a "romantic reaction to our crisis-ridden moment." LaBeouf wrote Turner a letter about his manifesto, and the two connected soon after.
LaBeouf, Ronkko, & Turner's first collaboration was the performance piece titled #IAMSORRY in Los Angeles. The project allowed people to enter a room and interact with LaBeouf, who remained silent. After screening a short video that showed different responses from people who participated in the art piece, Rönkkö discussed those reactions with the CalArts attendees, "So there were two very different reactions to the same work. You [LaBeouf] almost became a mirror for people, so you get what you give."
As the hour-long lecture continued Labeouf, Ronkko, & Turner went through the processes and intention of their other collaborations, including: #STARTCREATING, #INTRODUCTIONS, and #ALLMYMOVIES. The collective stayed for more than 90 minutes to answer audience questions about art and their performance pieces.
The full lecture has been posted above.