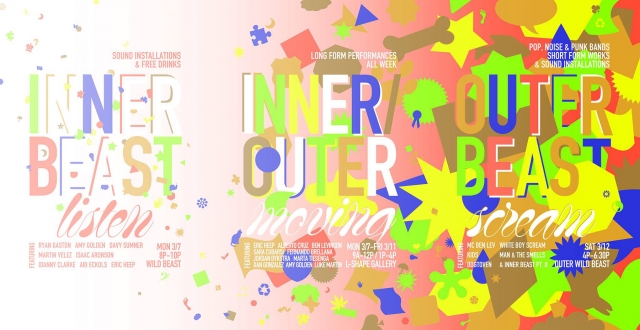 All this week (March 7-12), students from The Herb Alpert School of Music at CalArts present new works in the annual Inner/Outer Beast Festival.
The festival kicked off with Inner Beast: Listen, simultaneous "very quiet sound installations" by Ryan Gaston (MFA 16), Davy Sumner (MFA 16), Ari Eckols (BFA 18), Danny Clarke (MFA 16), Eric Heep (MFA 16), Isaac Aronson (BFA 17), Martin Velez (MFA 16) and Amy Golden (MFA 16) at The Wild Beast on Monday (March 7). Audience members were free to roam around each of the sound installations.
In contrast to Monday's lower-volume installations, the student-run festival closes with Outer Beast: Scream on  March 12 at 4 pm. Also held at The Wild Beast, Saturday's concert features an afternoon and evening of pop, noise and punk featuring CalArts bands Kids, Dogthoven, White Boy Scream and Man and the Smells. Additionally, short-form noise pieces will be performed throughout the show. The sound installation works from Inner Beast: Listen will also be made loud.
As a new component this year, musicians will showcase new three hour-long, open and experimental compositions beside the L-Shape Gallery throughout the week in Inner/Outer Beast: Moving. The CalArts community is encouraged to stop by to listen to a minute, or five, or the entire composition at their leisure. Below is the schedule of performers and performances:
Monday: Alberto Cruz (BFA 19) (9 am-12 pm) // Fernando Orellana (BFA 17) (1-4 pm)
Tuesday: Heep (9 am-12 pm) // Luke Martin (MFA 16) (1-4 pm) // Ben Levinson (BFA 16) (4-7 pm)
Wednesday: Marta Tiesenga (MFA 17) (9 am-12 pm) // Jordan Dykstra (BFA 16) (1-4 pm)
Thursday: Sara Cubarsi (DMA 18) (Heep, programmer) (9 am-12 pm) // Golden (1-4 pm)
Friday: Dan Gonzalez (MFA 16) (9 am-12 pm)
Inner/Outer Beast Festival 2016 is organized by Martin, Orellana and Cruz.