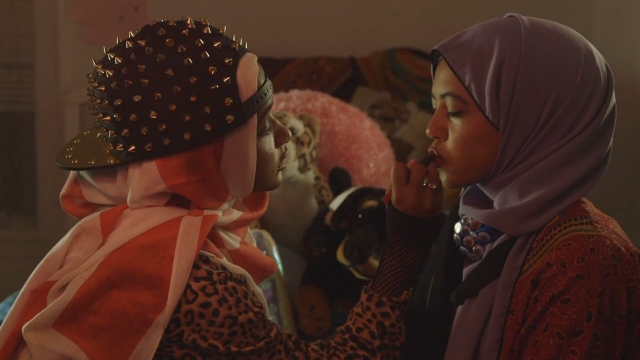 Above: An excerpt from Jennifer Reeder's 'Crystal Lake.'
by Mireya Martinez, MFA 1 student in CalArts' Film Directing Program
Writer-director Jennifer Reeder recently spent a week at CalArts as an artist in residence. Co-organized by School of Film/Video faculty members Lee Anne Schmitt, Bérénice Reynaud, Deborah LaVine and Steve Anker, the residency began on Feb. 22, with a screening at REDCAT. A full house had gathered to watch Reeder's short films: "Seven Songs About Thunder," "A Million Miles Away" and "Blood Below the Skin," the latter of which had its world premiere at the 2015 Berlin Film Festival.
In her work, Reeder explores the topics of relationships, trauma and coping, centering on the worlds of female characters, primarily teenage girls. "In my opinion, there are very few great films for teenage girls," said Reeder in the online publication Milwaukee Record. "Cinematically, they are grossly misrepresented. I hope my films get it right. Young women are beautifully challenging, magical, and remarkable humans. My films are a celebration of this."
During her residency, Reeder also conducted a two-day intensive script writing seminar for a group of 16 School of Film/Video students. During the course of 10 hours and with a turnaround of less than 24 hours, the participating students were guided to develop a completely new idea and write a three- to five-page script or script excerpt.
Reeder, who is the head of the Art Department at the University of Illinois in Chicago, began the workshop by asking participants to consider five elements that are fundamental to their sense of storytelling (three thematic and two formal/technical). From there, the students were asked to create a list of two characters, a time and place and to name 10 objects. Upending  expectations, Reeder had the students' exchange their setups and create their stories from the new lists. The following day, the students participated in a brief pitching session, a small window of writing and ultimately table readings to witness how dialogue is perceived differently when heard out loud than it is when read off a page.
Throughout the rest of the week, Reeder conducted a series of one-on-one consultations with students from the MFA Film Directing program to advise them on their thesis projects. As a bookend to her residency, Reeder screened her films "And I Will Rise If Only to Hold You Down," "Tears Cannot Restore Her: Therefore, I Weep" and her latest film, "Crystal Lake" in Reynaud's Film Today class.