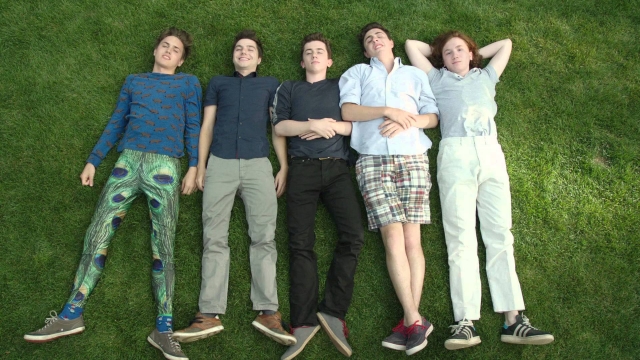 Above: Trailer for 'boyband.'
In boyband, a mockumentary web series set in Chicago, five teenagers in a garage band suddenly find themselves learning dance routines and coordinating their outfits when they set out to become the next big pop sensation. In between songs about cabbages and howling, Lance, Preston, Yancy, Chad and Shaun must navigate their way through makeovers, performing live and sudden fame.
Illinois native, artist and CalArts student Peter Semla (Art BFA 18) plays Shaun, whose mother signed him up for the band after watching him spend all his time playing bridge with his grandmother.
Above: Meet 'boyband's' Shaun.
Semla, whose art practice at CalArts includes painting and screen printing, confesses that he and his character don't have a lot in common. "But the one thing we do share is a love for music," he says in an email interview. "I began teaching myself guitar and piano when I was in middle school, and I sang in a barbershop group all four years of high school."
Although he considers his art practice separate from his acting, he mentions being interested in taking improv or music history courses at CalArts, as well as bringing more comedy into his artwork.
Semla has been friends with his boyband cast members (Jacob Bond, Matthew Chappelle, David Colton and Noah Eisfelder) for a long time, and he shares that working with them was the best part of working on the series. "It was just like being back in those wacky rehearsals for my high school sketch comedy show where you just bounce ideas off one another until one sticks."
boyband is on its 2nd season, with the entire series streaming on YouTube. It's recently been nominated for Best Ensemble Cast at the Los Angeles Web Series Festival (LAWEBFEST), with winners being announced next month.
We asked Semla what else is in store for the boys for the rest of the season, to which he responded, "They meet a more established girl band while at a recording studio. There's romance and heartbreak all around; it's great."
Above: The first episode of 'boyband.'