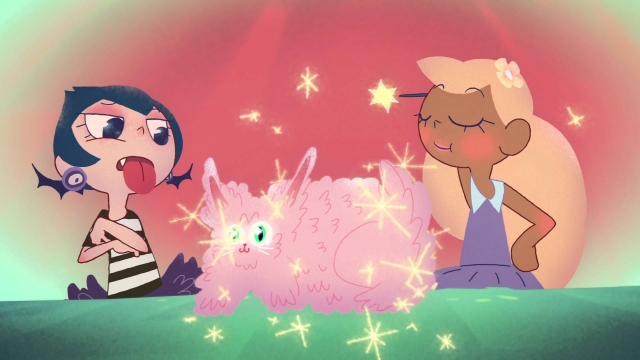 Above: Daron Nefcy's Disney XD spot.
Disney XD continues to expand its original series roster in both live action and animation. To showcase its animation slate, the channel has been working closely with artists from Disney TV Animation to create network ID television spots, including one by CalArts alumna Daron Nefcy (Film/Video BFA 09), creator and executive producer of Star vs. The Forces of Evil. The spot makes its official debut during the Star vs. The Forces of Evil first season marathon on Monday (March 28) at 1:30-8 pm, EST.
The series, which was picked up for its third season earlier this month, follows the adventures of the otherworldly magical princess Star Butterfly. Her parents have sent her to the decidedly nonmagical Earth to learn about responsibility and how to protect her powerful magic wand on her own. On Earth, Star lives with the Diaz family and becomes fast friends with their teenage son Marco, who she takes with her on adventures to fight villains in this world and beyond.
According to The Futon Critic, Nefcy's show was ranked as Disney XD's #2 animated series for Kids 2-11 and Kids 6-11 for 2015. The site also noted that the hardcover book, Star vs. The Forces of Evil: Star and Marco's Guide to Mastering Every Dimension, created by Nefcy and Disney Press, is due out in 2017.