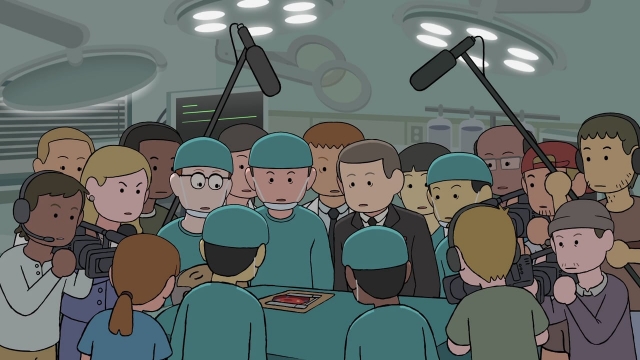 Above: David Davis' 'Open Heart.'
Industry executives, as well as students, faculty, staff and fans of CalArts' Character Animation Program gathered Wednesday night (May 4) at Directors' Guild of America in West Hollywood, Calif. to celebrate its student animators in the annual Character Animation Producers' Show.
Director of the Character Animation Program Maija Burnett expressed her profound thanks for all the students' hard work, relating that the students have made more than 400 films this year alone. She talked about the program's huge online presence, estimating that the student animators' reblogs and views on the popular site Tumblr numbers in the tens of millions, and the Program's Vimeo page has garnered over 15 million views since 2010. This year's channel, which showcases all the student final films, has received over 1 million views in the course of three weeks.
Above: Yonatan Tal's 'Nightmare in the Morning.'
Associate Director Steven Brown announced that long-time Senior Administrative Coordinator Martha Baxton is retiring this year after 31 years of exceptional service. In remarks that garnered a standing ovation, Baxton talked about the fun she had working in Character Animation and acknowledged alumni who come to visit campus and those who come year after year to the Producers' Show, and told the room "I'm gonna miss all of you, but not the 6:30 a.m. alarm." Brown then handed her a perpetual key to the Producers' Show, which she accepted, saying, "Good, because I was wondering how I was going to get in here next year."
Animator and CalArts alumnus Rich Moore (Film/Video BFA 87), director of such critically-acclaimed animated films as Zootopia and Wreck-It Ralph, as well as animated TV series The Simpsons and Futurama, was the night's Guest of Honor. In remarks peppered with humor, he related how in his class of 30, "there were 25 men and 5 women, and not much diversity beyond that. But visiting CalArts now, and seeing people from all over the world in the program, I'm convinced that animation is in good hands, and it will continue to evolve and grow in amazing ways."
The Program has definitely evolved and grown since Moore's day, with women comprising 71% of the student body. This changing trend caught the attention of the Los Angeles Times, and CalArts itself is opening the conversation about women in animation in its inaugural The Animated Woman symposium.
To the students, he said, "All of you worked really hard, even those of you who don't have a movie screening here tonight. You've been on this path your whole life. You might have been called the creative one in your family, and you probably doodled in class and drew comics in high school. Then you realized you could make a career out of animation, and you sent in your portfolio to CalArts. Let me tell you: It's not an accident that you're here; no one took pity on your portfolio. You've earned a seat at this place." He ended his remarks by commending the students, telling them, "you will shape animation for the next 50 years, and I am so honored to be in your presence."
The Peers' Pick Award went to Ingo Raschka (Film/Video BFA 17), whose film Video 69 is a meditation on objects and desire. The 2016 Walter and Gracie Lantz Animation Prize, better known as the Woody Award, went to David Davis' (Film/Video BFA 17) Open Heart, which follows an unexpected medical discovery that captures the hearts of the American public.
Above: Ingo Raschka's 'Video 69.'
The Program also announced the inauguration of a new award from Vimeo called the Vimeo Award for Outstanding Student Achievement in Animated Filmmaking. The award went to Xiya Lan's (Film/Video BFA 17) You look scary, a whimsical short featuring a crocodile and a bunny, which she says is entirely based on her life, as she always amplifies her own fears.
As in previous years, the showcase screened films that capture the breadth and technical proficiency for which the Program is renowned. A plethora of art styles, tones and moods were represented, everything from stop motion, to 2D and 3D animation, to musicals such as Yonatan Tal's (Film/Video BFA 17) Nightmare in the Morning and Kiernan Sjursen-Lien's (Film/Video BFA 17) The Magnificent Menagerie of Melvin McMelanie, to films tackling serious subjects such as Jerrold Chong's (Film/Video BFA 17) Eclipse, Ning Cheng's (Film/Video BFA 17) Falling Tide and Lucas Durkheim's (Gobelins Exchange) Grounded, to lighthearted comedy as in Citlalli Anderson's (Film/Video BFA 16) Bruno and Alexander Santa Cruz' (Film/Video BFA 16) LABCOAT to darker comedies Moon by Alex Avagimian (Film/Video BFA 20) and Delaney Januzzi's (Film/Video BFA 17) The Routine.
Above: Alexander Santa Cruz' 'LABCOAT.'
The evening ended with a reception in the DGA Lobby.
To view the selected films at the show and others, please visit the 2016 Character Animation Vimeo Channel.