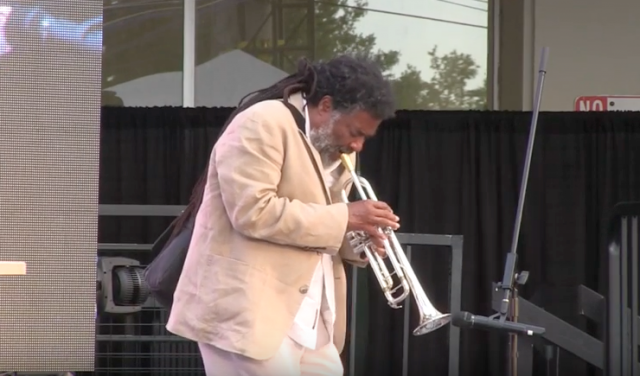 Above: Wadada Leo Smith's graduation speech included a solo trumpet performance.
On May 13, the CalArts community, families and friends gathered at the Institute to celebrate the accomplishments of the graduating class of 2016. The day was marked by exuberant music and dance performances, as well as stirring addresses by a number of speakers, including the honorary degree recipients: trumpet legend and composer Wadada Leo Smith and actor, director and producer Don Cheadle (Theater BFA 86).
Students' Union Art School Representative Liz Huth and Students Trustee Olga Cosme addressed their fellow graduates, reminiscing about their time at CalArts and sharing what their experiences have taught them. Before introducing CalArts President Steven D. Lavine, Huth and Cosme thanked the families of all graduates for their support and encouraged their peers to continue to strengthen and grow their art practices.
Lavine, who steps down as Institute president next year, gave a heartfelt speech as he shared what he'd learned as one of the nation's longest serving higher education leaders. He thanked the students for making his time at CalArts memorable, and then conferred Honorary Doctorate of Arts degrees on Smith and Cheadle, giving each a short introduction.
Smith presented two distinct statements to the audience. In his first, Smith said, "Art is about the artist who has something inside that is greater than the outside world. And by allowing the creative inspiration to be expressed, it makes the world greater. The true artist will always find a way to radicalize their art at every stage in their artistic journey. Although we live in this monstrous world of violence, hostility and exploitation, still it is our responsibility to overcome these challenges by making the art that will remain rooted in the practice of love and has the authority in that work to touch the hearts of human beings."
Smith's second statement came in the form of a short musical piece that he performed solo on the trumpet.
Above: Don Cheadle receives his honorary degree from CalArts.
In Cheadle's address to the graduates, he borrowed a quote from Martha Graham, a dancer and choreographer: "There is a vitality, a life force, a quickening that is translated through you into action, and there is only one of you in all time; this expression is unique. And if you block it, it will never exist through any other medium, and it will be lost. The world will not have it. It is not your business to determine how good it is, not how it compares with other expressions. It is your business to keep it yours clearly and directly, to keep the channel open. You have to keep yourself open and aware to the urges that motivate you.  Keep the channel open. No artist is pleased. There is no satisfaction whatever at any time. There is only a queer divine dissatisfaction, a blessed unrest that keeps us marching and makes us more alive than the others."
Cheadle continued his speech by congratulating the students and encouraging them to never give up on their art despite the rejections they will most likely face in their future because, "art is vital never more than today."
Above: Full video of all the 2016 graduation speeches.
Related posts: