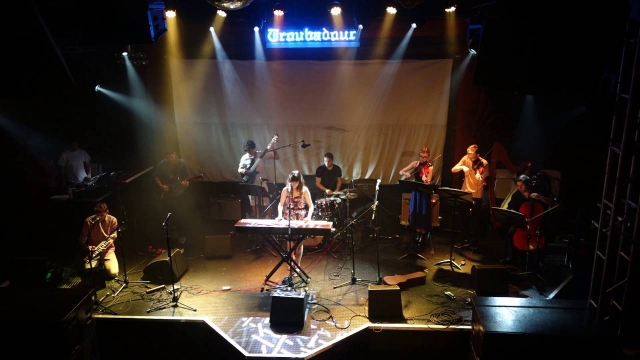 Above: Abby Lyons performs at CalArts Soundstream in April.
On April 18, 10 musical acts from the graduating class of The Herb Alpert School of Music at CalArts showcased their talents at the annual CalArts Soundstream concert. The event, held at legendary music venue The Troubadour in West Hollywood, Calif., presented forward-thinking and genre-defying music to industry executives and to the Los Angeles public.
In the first act, audiences were treated to insightful, snappy pop by pianist and vocalist Abby Lyons (Music MFA 16), along with her band members: JP Yépez (Music MFA 16) on guitar, Giancarlo Cruz (Music MFA 16) on bass, Michael Ohlinger (Music MFA 16) on drums, Rachel Iba (Music MFA 17) on violin, Henry Webster (Music BFA 13, MFA 17) on violin and viola, Luigi Polcari (Music BFA 16) on cello and Zach Onett (Music MFA 17) on small piano-like instruments. In the video above, they play Lyons' compositions "Your Girlfriend Will Hate This Song" and "I Left a Man."
Summer Soundstream is our weekly series featuring performances from the 2016 CalArts Soundstream.