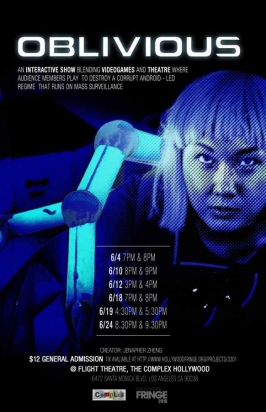 CalArts alum Jenapher Zheng (Theater MFA 16) has written, produced and directed a new work of theater in collaboration with the CalArts-based group, Active Captivation Games (ACG). The play, Oblivious: A Videogame Theater Experience, will be showing at the Flight Theater as part of the 2016 Hollywood Fringe Festival.
ACG was started by Zheng and Gillian Moon (Theater MFA 16) when they first began Oblivious as a workshop performance at the 2015 CalArts New Works Festival. Since then, the name ACG refers to the group of CalArts students and alumni helping to bring the interactive production of Oblivious to a wider audience. Zheng and ACG set up a campaign on the crowd-funding site IndieGoGo, and with the help of 30 backers, Zheng and her team surpassed their goal and were able to make Oblivious a part of the 2016 Hollywood Fringe Festival.
The work of science fiction takes place in a dystopic world called United Nation-States of Surveillance (UNSS) where society's fear of terrorism has resulted in forced mass-surveillance. The new world's leaders believe that the erasure of privacy and freedom ensures greater safety for its citizens. The themes explored by the production are relevant to our post-9/11 world, but Oblivious adds a twist to conventional theater by integrating the world and mechanics of videogames.
In an interview with Entropy Magazine, Zheng said, "Oblivious began when my interest in writing a cyberpunk-themed interactive show fused with my team member's idea for a live game environment. What it's become is a theater production that operates like a videogame by giving audience members player agency and allowing playtime in a responsive live space."
As part of the play, an actor, Immigration Officer Praxis 45-O, chooses three people from the "speculative audience" to become new citizens of UNSS and therefore active members of the story. Before the audience members can be made citizens, a voice claiming to be "The Creator" pleads with them to join the revolution against the government by helping to dethrone the robot dictator, CaNDOS (Corporeal and Nefarious Disk Operating System), a tribute to the villain GlaDoS from the videogame Portal.
This aspect created some unique challenges for the cast of Oblivious.  Because every audience member selected to participate is different, their approach to the tasks and puzzles are different as well, making it necessary for the actors to improvise much of the play. As a result, Oblivious is completely different each time it is performed, and this principle of reaction is what provides the videogame functions to the play.
The audience members are assigned puzzles and tasks to cut off CaNDOS's sight and hearing. They "play" the game until either they achieve their goal (one of three predetermined alternate endings) or they fail and receive a "game over."  If they fail, three more audience members are selected to participate until an end is reached. The agency granted to the participating audience members allows for a deeper sense of responsibility and engagement that translates to their role in the larger social issue presented by the production.
In an email, Zheng said:
What theater offers is an irreplaceable live experience, which transcends common entertainment. What videogames offer is a chance to have a symbiotic relationship with the material. By making a live videogame theater experience, I'm trying to find a way to give audience members agency by giving them the responsibility of telling the story and prevent them from being passive. It's especially easy in a first world country to choose not to engage with tough topics when it is inconvenient for us to act—I hope that by initiating action through entertainment, I can begin a conversation about social responsibility.
Oblivious will run June 10-24 at The Flight Theater at The Hollywood Complex.
Above: Trailer for 'Oblivious: A Videogame Theater Experience.'
Event Details
Hollywood Fringe Festival: Oblivious: A Videogame Theater Experience
Oblivious: A Videogame Theater Experience
June 10-24
The Flight Theater at The Hollywood Complex
6476 Santa Monica Blvd., Los Angeles
Tickets: $12, preview on June 4 is Pay what you want/Free entry with the code "URSAFE"