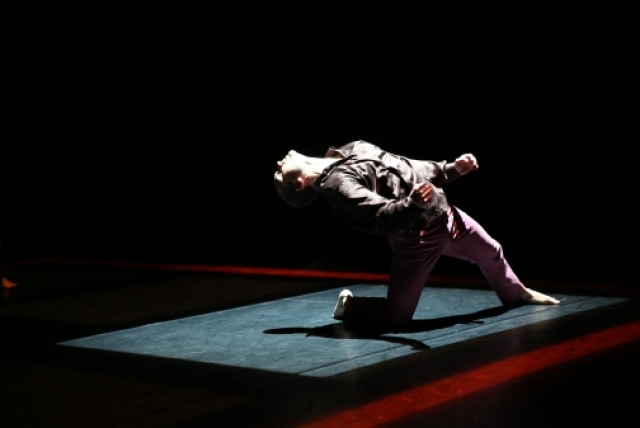 Above: Excerpt from 'Still/Restless.'
Acclaimed choreographer and faculty member of The Sharon Disney Lund School of Dance at CalArts Rosanna Gamson presents her dance-theater piece Still/Restless June 2-4 at REDCAT.
Restless is an exploration of oneirology, the study and science of dreaming.  The show is constructed by "intimate and volatile" duets, which are choreographed to an eclectic mix of music, ranging from 17th century French court composer Marin Marais to more contemporary instrumental music.
Restless builds on Still, which premiered at REDCAT's 2014 New Original Works Festival and was also inspired by the study of dreaming. Broadway World called Still "a beautiful dance of the psyche….a very sensual and quite unforgettable experience," and The Examiner said the show was "a visually exciting piece of intricately woven dance moving in and out of stunning light and shadow…creating a piece that is sometimes ethereal, sometimes kinetic."
Gamson's dance company, Rosanna Gamson/World Wide (RGWW) brings together dancers, singers, actors and musicians, adding layers and dimension to the collaborative pieces that have been created by weaving together the different skills, cultural traditions and points-of-view from the members of RGWW.
In Gamson's artist statement, she says, "While striving to build a complete aesthetic world for each project, I use the structural conventions of melodrama—a narrator asking moral questions of the audience, big theatrical effects, virtuosity, heightened emotion set to music—inviting audiences to connect to the resonance of the subject and the legibility of theatrical metaphors."
Gamson earned a BFA and MFA in dance at New York University's Tisch School of the Arts.  She has performed around the world in the dances of Yvonne Rainer, workshop performances of Robert Wilson, and was a member of Andrew DeGroat & Dancers.  In addition to dance, Gamson studied poetry with Charles Simic, Louise Glück and Thomas Lux, and her poems have been published in many literary magazines and journals.
Event Details
Rosanna Gamson/World Wide: Still/Restless
The premiere of Rosanna Gamson/World Wide: Still/Restless
June 2-4 at 8:30 pm
Roy and Edna Disney/CalArts Theater (REDCAT)
631 W 2nd St., Los Angeles
Tickets: $12-$25