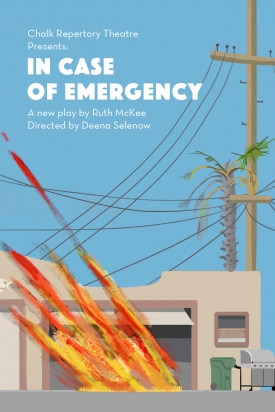 Chalk Repertory Theatre presents In Case of Emergency, a new site(s)-specific play written by Ruth McKee and directed by CalArts alumna Deena Selenow (Theater MFA 13). The production takes place in four private garages in Northeast Los Angeles, from Montrose, to Atwater Village, to Pasadena, Calif. The exact addresses are revealed to audience members with a ticket purchase.
In Case of Emergency follows Meredith, played by Amy Ellenberger, an overly-prepared woman who has filled her garage with supplies for any natural disaster. She enlists the help of Alex, played by Daniel Rubiano, from "Ready, Set, Go" to help her get organized. Things go awry when a real disaster threatens the city and Meredith's younger sister Emma, played by CalArts alumna Emma Zakes Green (Theater MFA 13), shows up with her own personal disasters. The three characters then find themselves stuck in the overstuffed garage.
In an interview with KPCC, playwright McKee says:
I watched Hoarders right when I started writing, and I watched Doomsday Preppers. It was a big inspiration. I start with the setting and how a confined space affects characters and what kind of tension emerges. Conflicts arise when people are stuck inside a confined space.
In Case of Emergency runs over four weekends from June 3 through July 3.
Event Details
In Case of Emergency
June 3 through July 3
Various garages in Northeast Los Angeles
Tickets: $20-35