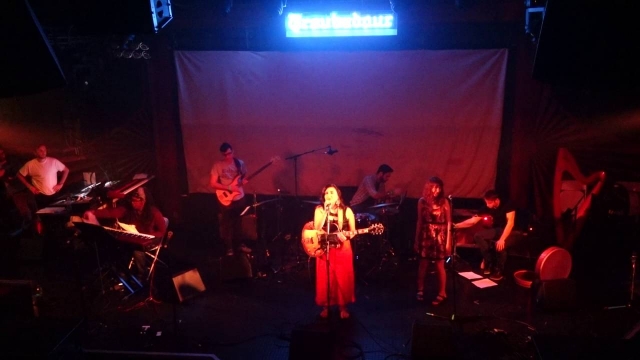 Above: Maryama Band performs at CalArts Soundstream in April.
On April 18, 10 musical acts formed by the graduating class of The Herb Alpert School of Music at CalArts showcased their talents at the annual CalArts Soundstream concert. The event, held at legendary music venue The Troubadour in West Hollywood, Calif., presented forward-thinking and genre-defying music to industry executives and to the Los Angeles public.
Maryama Band took over the stage with their brand of soul music that includes Persian and Middle Eastern elements. They played two songs, "Where the Mermaids Are and "Crush," off the band's upcoming debut album Where the Mermaids Are.
Maryama Band's lineup is Maryam Mirbagheri (Music BFA 16) on vocals, guitar and sehtar, Abby Lyons (Music MFA 16) and Elsa Lund (Music MFA 17) on backup vocals, Julian Karahalios (Music 15) on bass, Marcelo Bucater (Music MFA 17) on drums, Michael Ohlinger (Music MFA 16) on world percussion and Maleke Clemmons (Music BFA 18) on piano.
Summer Soundstream is our weekly series featuring performances from the annual CalArts Soundstream.