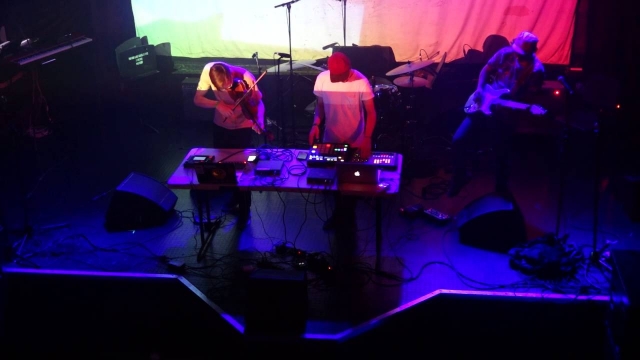 Above: Tunefolder performs at CalArts Soundstream in April.
On April 18, 10 musical acts formed by the graduating class of The Herb Alpert School of Music at CalArts showcased their talents at the annual CalArts Soundstream concert. The event, held at legendary music venue The Troubadour in West Hollywood, Calif., presented forward-thinking and genre-defying music to industry executives and to the Los Angeles public.
For the sixth act, electronic outfit Tunefolder brought their mix of ambient and dance music to the stage. Henry Webster (Music BFA 13, MFA 17) played the violin, Aidan Gould (Music BFA 15) the guitar and Kyle McCarthy (Music BFA 15, MFA 17) percussion instruments, while Jack Turpin's (Film/Video BFA 14) projected visuals accompanied the set.
Summer Soundstream is our weekly series featuring performances from the annual CalArts Soundstream.