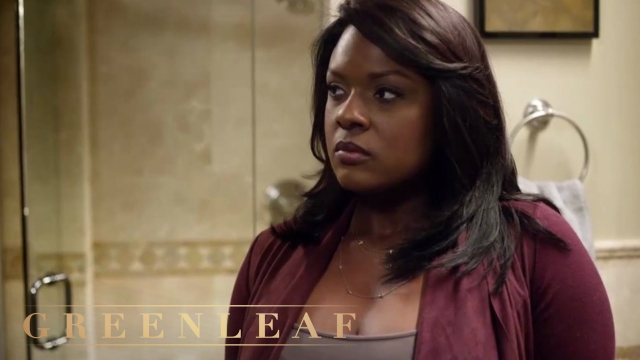 Above: Deborah Winans talks about her character in 'Greenleaf.'
Greenleaf, a new show on the Oprah Winfrey Network (OWN), premiered last month (June 21) and alumna Deborah Joy Winans (Theater MFA 10) has a starring role as Charity Greenleaf-Satterlee, a pastor's daughter.
Created by Craig Wright, the show follows the scandals of the Greenleaf family and their Memphis megachurch, Calvary Fellowship World Ministries, headed by James Greenleaf (Keith David) and his wife, Lady Mae Greenleaf (Lynn Whitfield). Winfrey herself plays blues club owner Mavis McCready, a role that marks her return to scripted TV in more than two decades.
Variety's review of the show noted, "It's a classic nighttime soap, so all the staples of the genre are there: infidelity, substance abuse, a love triangle or two, greed, resentment, and vengeance.  And yet this capable drama… treats themes of faith and redemption with earnest intelligence."
Winans was featured in Rolling Out in an interview about the show and her own life and work. When asked about the show's themes, Winans said, "The highlight of the show to me is family. There's a love and familial bond that is undeniable when watching this show and [that] makes it very real and very special."
In the interview, Winans also described her character, Charity:
Charity is a good daughter that doesn't feel the payoff of being so good. I think she feels unappreciated and I think that is something she carried with her for a long time. She looks for ways to find that love and acknowledgment through her kind and caring husband, Kevin. Her freedom is found in her workshop when she sings, although, I'm not sure she is fully aware of that. I think Charity and I have similarities…. When this was offered to me, I simply began to think about my life.
Greenleaf airs Wednesdays at 10 pm PST on OWN.