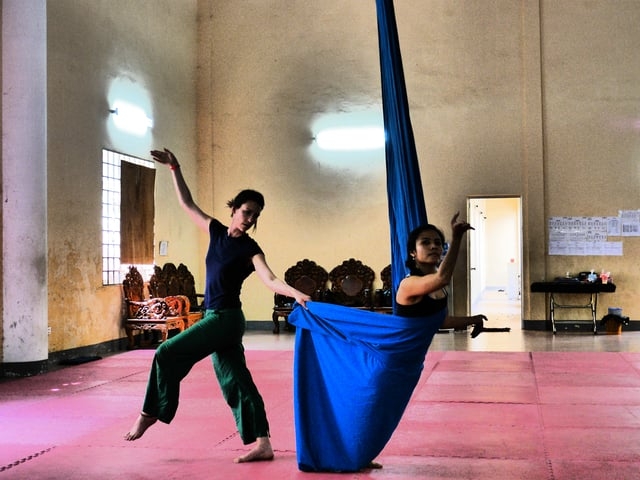 Above: Laurel Jenkins and Chey Chankethya perform 'Soma Path' in Cambodia.
The second program of the New Original Works (NOW) Festival continues this weekend (July 28-30) at the Roy and Edna Disney/CalArts Theater (REDCAT), showcasing works by Laurel Jenkins and Chey Chankethya, Rebecca Pappas and NoodleRice Studio.
Soma Path
Los Angeles-based choreographer Laurel Jenkins traveled to Cambodia earlier this year to collaborate with Chey Chankethya (Kethya), the artistic director of Amrita Performing Arts in Phnom Penh, for Soma Path, a duet between Jenkins and Kethya that portrays the intersection between Cambodian classical dance and American postmodern dance set to the live music of Miguel Frasconi.
Plastic Flow
In Plastic Flow, choreographer Rebecca Pappas uses paper, fabric and lighting to simulate the slowly changing landscape of glaciers. Researching the piece since 2013 with the help of geologist Carolyn Dowling, the performance features lighting design by alumnus Christopher Kuhl (Theater BFA 05), designs by painter Claire Anna Baker, and sound design by Joe Court.
Untitled
Artists/designers Yao Zhang (Theater MFA 14) and Liang Guo (Film/Video MFA 15) of the artists' collective, NoodleRice Studio, present their untitled film about a mysterious world and cast of characters, who continually transform their identities, genders and species.
NOW Fest is back next weekend for its final line up of artists (August 4-6).